About Me
I recently gave birth to my gorgeous son, Elijah, on 09/08/2012. I forgot how much love you feel for someone youve never even met before!! I now have a 4 year old daughter and my son...AND I just found out I am pregnant again! The Dr is guessing around 6 weeks but I guess we will have to wait and see when I get my first ultrasound (which isnt until the 2nd week of January) My children are my world and I can't wait for this little guy/girl to join our family. My fiance and I are very excited to welcome our new little one and watch our son and daughter grow more every day. Anyways, I currently live in WI and its freezing! If you don't live her, don't move here during the winter! lol But thats all. Message me if you want to know anything else :D
March 2

Just saw your new Avi pic and wanted to tell you how adorable it was :D How are you feeling??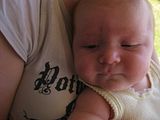 January 29

Hi! Just wanted to say good luck with going to the hospital an I ptanked you. I have another appointment with my ob on the 13th so nervous that ill have another miscarriage. When's your next?
January 23

In Australia we see a gp (normal family doctor) until about 16-18 week's then we book into the hospital we plan to deliver at, then at that hospital we regularly see a midwife. Further in the pregnancy and depending on risk factors we alternate between a midwife and ob for the last 6-8 week's. So no ob yet :) How is your pregnancy going? Do you have bad morning sickness?
January 20

DD buddy? :)
December 21

thanks :D im excited nervous happy and scared shitless all at the same time! lol
December 21

Awww, yay. Congrats!!! Are you excited??
November 9

Uh oh!!!! I actually took one recently also, and I got a FALSE POSITIVE!!! I damn near had a heart attack lol. How did yours turn out?
October 28

lol i can totally understand that! this is my first time being back on bg since my son was born! AND ... looks like Ill be needing to get another test. Im hoping all this nausea and fatigue is simply my body getting back to normal, but i havent been exactly safe either. wish me luck!
October 7

Ok, the part that says "I pushed for exactly an hour minutes" yeaa, that was supposed to say "I pushed for exactly 60 minutes" My brain hurts, too much lack of sleep lately :P
October 7

Oh wow, I s**k. I just realized you responded on your page. Haha. I actually had Aiden on September 4th! 6 days before I was scheduled to be induced. I had my 38wk visit at 11am that day, she checked me and I was still only dilated to a 2. I signed the papers for my induction and epidural, she explained how everything was going to go, and I went on my way. I went shopping, cleaned out my car and came home to make lunch. Around 2pm I was sitting on my back porch and I had one major contraction...it passed, but when I stood up my water broke! I was shocked, it actually took me a second to realize what was happening lol. I live really close to the hospital , and made it there by about 2:20pm. When I got to the hospital I was only dilated to a 3, so the decided to start some pitocin. I went about 3 hours on the pitocin before I decided I absolutely needed the epidural. Too bad it DIDN'T WORK! I mean, not even a little, complete fail...so I got the pleasure of "Natural childbirth" without actually choosing it lol I stayed at a 3 for quite some hours. At 8:40 pm they checked me and I was a 4, they said it would probably be another 6 hours but 20 minutes later I started feeling like I had to push. I called a nurse and told her...she checked me again and I was a 10!!! I went from 4cm to 10 in 20 minutes. I pushed for exactly an hour minutes and my little Man came into the world kicking and screaming :D The entire labor was only 8 hours start to finish...I got lucky with that, it was an extremely short labor for a first baby...and I don't think I would have made it much longer anyway, not without the epidural! It HURT! :P I'd do it all over again though, I got such a great gift at the end :)
September 16

Great, I actually gave birth to my son on September 8th!! I went into the hospital around 6 pm with regular contractions but I was still only dilated 3 cm. They told me to go and walk around for 2 hours and to come back and get checked. I went back in and had dilated to 5 with contractions every 2-3 minutes but after about an hour of no progress they sent me walking again...this time I only made it about 10 minutes before contractions started coming hard and close to together.... as we were walking back to the hospital I had to stop every couple of minutes and wait for a contraction to pass... I went back in and had dilated to 8 within that 10 minutes of walking. They rushed me upstairs to l&d and I was able to get the epidural just in time! My son, Elijah, was born at 6:32 am. :D I couldn't be happier. How about you? Have you delivered yet?
September 13

Hey girl! How are things? Any babies yet??