About Me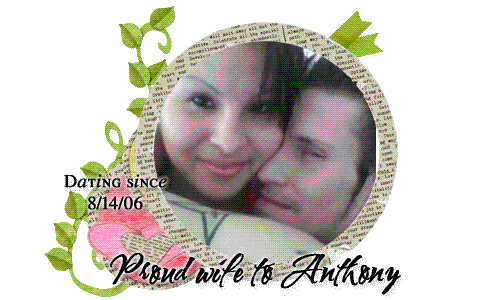 Hi, My name is Cyndi, Im 27 years old, and I'm the
VERY
proud mother of 3 handsome little boys, and one beautiful little girl. I am VERY happily married to the man of my dreams and my bestfriend, Since St. Patrick's Day '09.
About me:
I'm not your average girl, I'm into lots of the things guys love to do... Gaming being at the top of the list, along with fishing, car mechanics, (
TRYING TO
) skateboard, (
TRYING TO
) play guitar, and I also love the girly things... Such as, Shopping, getting my nails done, hair done, make-up, nail polish, purses, shoes, etc... Another few things to have caught my attention over the years are, reading, poetry and a weird fascination with serial killers, which i think may stem from my love of Mystery books. I like LITERALLY ALL types of music, I mean SERIOUSLY, you can look through my playlist and see AC/DC next to Beyonce, and just before that, have Buddy Holly. From Red Hot Chilli Peppers, to Ludacris, and before that, Janis Joplin.. Rancid, next to Alicia Keys, and before that, Righteous Brothers. Yes I may not be average, but i embrace it, and I love who I am :D
My Husband and Father of my children <3
(Anthony Sr.)
I met this fantastic man in the summer of 2006.. Since the day we met, it seems we CANT be apart!! He is the most amazing, hardworking, and loving man ive ever had the pleasure of meeting, and im blessed to get to spend my life with him.. I was already in a relationship when we met, but he swept me off my feet (LITERALLY) lol and I knew then, that i couldnt be without him.. He is the bread winner for my family, and will work his legs off just so that i dont have to. He is my bestfriend, and i couldnt ask for a better companion.
My First Baby,
Name: Anthony Jr (Aj)
Due Date: May 25, 2007
Born: May 31, 2007 (via C-Section due to no progression after 13hrs on pitocin drip, never got past 1cm, and baby's heartrate kept dropping)
Time: 3:54pm
Weight: 6lbs 14oz
Length: 18 1/4 inches
Aj is a VERY smart little boy, who started kindergarten 2 months late, but is excelling past every other kid in his class!! Im SO proud to have created such an intelligent, handsome, little human being!! He's tall for his age, (Dr. said he's in the 90ish %) and is growing more and more each day. On his freetime, he LOVES playing video games, doing ANYTHING educational, riding his scooter, and playing with his little brothers and little sister.
My Second Baby.
Name: Aydyn (Chubby)
Due Date: June 5, 2009
Born: June 8, 2009 (via repeat C-Section)
Time: 11:19am
Weight: 7lbs 4.2oz
Length: 19 inches
Aydyn A.k.A Chubby, is a VERY intelligent for his age kinda child... He picks up things his big brother learns in school, quite easily. He already knows the alphabet, can count to 20, and is learning how to spell small words like cat, and red. I think he's READY for school!! Lol... On his spare time, he likes to eat, (hence the nickname Chubby) Play video games with his big brother or daddy, do anything educational, and play with his brothers and little sister.
My Third Baby
Name: Alysin (Aly)
Due Date: September 30, 2011
Born: September 21, 2011 (via Repeat C-Section)
Time: 9:57am
Weight: 6lbs 0.8oz
Length: 18 1/4 inches
Aly is my little princess tomboy.. She LOVES wearing pretty dresses, getting her hair done, her nails painted, only to go outside and roll around in the dirt to ruin it all!! lol She likes playing with cars, she's starting to get the hang of video games, and she loves baby dolls.. She is a VERY smart little girl, and though she doesnt yet know how to talk, She knows how to let you know what she wants!! haha She loves ALL her brothers, and I sometimes think SHE'S gonna be the one beating THEM up!! lol
My Fourth and FINAL baby
Name: Atom (bomber)
Due Date: January 28, 2013
Born: January 22, 2013 (via repeat C-Section)
Time: 12:37pm
Weight: 7lbs 8oz
Length: 19 inches
Atom so far is a VERY alert and hungry baby!! lol He eats at least 8oz every 3hrs, and sometimes can eat again a little sooner.. He's already aware of things going on around him, and interacts with people as well.. He is a very happy baby, and loves to laugh and be tickled.. He LOVES conversating with his big brothers and big sister.
And that just about sums it up :D No more babies for me, I had a tubal during the birth of my last one, so now, i get to watch my Beautiful family mature. <3
If u wanna know more, feel free to message me, and feel free to PT me!! I dont mind :wink: