About Me




I have been with an amazing man for 7 years, married 5 years on Halloween.






After 6 long years and a few losses, we were expecting our first in June. We got engaged 6 years ago on sweetest day 2006 , and got our BFP on sweetest day 2012 :). The best day ever!!




Our son arrived on my birthday, April 16th, 2013. He was 10 weeks early, and weighed 2 pounds, 9 ounces and was 15 inches long. His future was unknown, as he had many complications including collapsed lungs that required a ventilator and chest tubes. Hes Now a 2013 NICU grad and home. Hes our everything!




November 21

We are doing better, thank you :).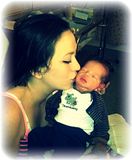 April 29

checking on you and ur little man. i hope that you two are doing ok. Check in the june thread and update us