About Me
I currently am the caregiver for my 25 year old mentally disabled sister and I am pregnant with my first child. My fiance and I raise pit bulls so my days are filled with caring for her and puppies, sounds fun and most the time is but being pregnant and doing it are two different things :) lol. I spend my days at home most the time since BD works on the road and is only home on weekends I try to do all my extra fun stuff on the weekends with him and my sister.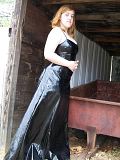 ☮Saruh☮
I have 20 kids and live in West Virginia
September 13

Haven't talked to you in a while wanted to catch up. I'm sending baby dust your way!