Little Richard's mommie!
4431 Posts | Joined BG: Aug 22, 2012
Last Visit: 1 year ago
Age

21



Gender

Unspecified



Status

Married



Work

SAHM/full time student



Location

Seneca, South Carolina




Kids

1



Due

Jul 12, 2014 (boy)



My name is Tabitha! I am 19 and I am a full time college student. I found out July 9th 2012 that I was expecting my first little one :). It was the greatest most wonderful day of my ENTIRE life. I was due on March 8th 2013 and he arrived on March 5th, 2013! He is the most precious little boy! Well if ya wanna talk message me! :) And now I am pregnant with number 2 :) and I'm due July 15th 2014!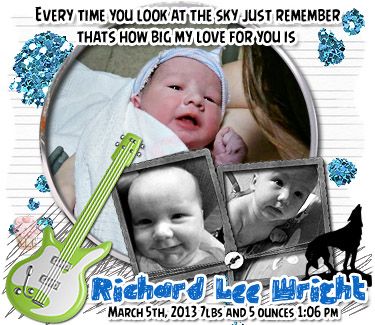 9 weeks Ultrasound of my little guy!
19 weeks and 5 days :)


25 weeks and 6 days Ultrasound!





Now for my belly pictures, since my stupid computer won't add them to my pregnancy album, I have more pictures of every week but I am just doing every 5 weeks on here


5 Weeks
Excuse my mirror lol 10 weeks!





15 weeks and 3 days :)


20 Weeks :)!





25 Weeks :)!





30 weeks!