About Me
♥
I'm happily married to my bestfriend, and we have a beautiful baby boy, Mason Hawk, who was born on 3/17/13 (His poppys 53rd birthday!)! 7lbs 2 oz & 20 inches of perfection!
♥♥
♥
Other than being stuck 7 different times with the epidural needle and being in labor for 24 hours, I was blessed with an easy labor!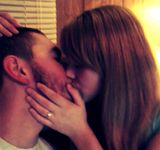 February 2

Just stopping by to say hello!
cℓ=
I have 16 kids and live in Iowa
November 30

Just stopping by to show some love :)