About Me
















Kevina is my name but my friends call me Vina I'm 24 b-day 9/15/89 getting married to my bestfriend Matthew but i call him Mac been to gether for 6 years and are having our first baby yay us........





1 Month (1-4 Weeks) - done.

2 Months (5-8 Weeks) -done.

3 Months (9-13 Weeks) -done.

4 Months (14-17 Weeks) - done IIt's a boy

5 Months (18-21 Weeks) -Baking

6 Months (22-26 Weeks) -

7 Months (27-30 Weeks) -

8 Months (31-35 Weeks) -

9 Months (36-40 Weeks) -

About Your Pregnancy:

Is this your first pregnancy?: Me and HubbiesFirst
Was it planned?: No and yes
What was your first reaction?: Happy as hell
Who was with you when you found out?: Just Me
Who was the first person you told?: My sister n law
How did your parents react?: Happy and thought it was a joke
How far along are you? 14.6
What was your first symptom?: None, until I came from my first doc appt
What is your due date?: April 19, 2014
Do you know the sex of the baby?: Nov. 11 .2013
If so, what is it?: ------ "Still Waiting"
Have you picked out names?: Yea but i cant tell
How much weight have you gained?: 2 lbs
Do you have stretch marks?: yes
Have you felt the baby move? YES! Just flutters though!
Have you heard the heartbeat?: Yes.

About the birth:

Home or hospital birth?: HOSPITAL
Natural or medicated birth?: MEDICATED
Who will be in the delivery room with you?: Hubby
Will you breastfeed?: Try too
Do you think you'll need a c-section? No.
Will you cry when you hold the baby for the first time? Yes
What's the first thing you might say to him/her? Aww your so cute
Would you let someone videotape the birth?: No, just pics before and after
Are you excited about the birth, or scared?: Excited and Scared
G & N
I have 1 child and live in California
November 9

Hey! Thanks for the PT, congrats on the pregnancy i'm Maya.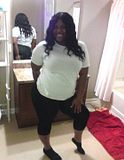 October 25

2nd Doc appt today everything good we are now 14 weeks and 6 days Apirl 19,2014 your not that far now!