About Me
I believe in the benefits of breast feeding, vaccinating, bottle feeding, disposable diapers, solids by six months, juice giving, cuddling, non-spanking, going to school, ton's of picture taking, co-bathing, and doing on my own young mommy.(:
Pregnancy Journey: August 20th: Last menstrual period.
Oct 19th: Went to the hospital, they did a pregnancy test but I left before they told me anything.
Oct 22nd: Went back to the hospital, found out I was pregnant. They did a ultrasound to make sure the baby was in the right place. They told me I was about 8 weeks.
Oct 31st: went to my first OB/GYN appointment, they drew blood, heard the heart beat [ 165-170 BMP], and they did an official ultrasound and said I was 10 weeks 2 days. and that my due date is May 27th, 2013
Nov 5th: 11 weeks
Nov 9th: They called and told me I am a carrier of Cystic Fibrous.
Nov 12th: 12 weeks
Nov 14th: Went to WIC, got my WIC. Then went to the OB/GYN, had an ultrasound done to check the baby for down syndrome. They said it looked like the baby was fine but still had to do the blood tests that came along with it.
Nov 19th: 13 weeks.
Nov 28th: Doctors check up at 14 weeks and 2 days. Heart beat was 154. I found out the gender on Dec 27th.
Dec 3: 15 weeks
Dec 6th: Went to get my RH- shot, had a 15 weeks ultrasound.
Dec 7th: was in the hospital for kidney stone, and UTI
I am a soon to be young mother, I am sixteen. My birthday is April 7th, and the baby is due May 27th. I am an Easter baby, and this will be the first year my birthday has fallen on Easter since I was born.
I am pregnant with my first and it may be my last depending on how things go because I am high risk.
F I R S T - T R I M E S T E R <3
1-4 weeks [1 months] - COMPLETE!
5-8 weeks [2 months] - COMPLETE!
9-13 weeks (3 months) - COMPLETE!
Had my first ultra sound on Oct 31st, heard the heartbeat: 165-170, toke blood, etc.
Nov 14th had my second ultra sound heart beat was 157 BPM and tried to find the gender but babies legs were crossed.
11 weeks on 11/05,
12 weeks on 11/12,
13 weeks on 11/19
S E C O N D - T R I M E S T E R <3
14-17 weeks [4 months] - Baking
Found out gender on Dec. 27th
18-21 weeks [5 months] - Preheating
22-26 weeks [6 months] -
Baby shower on Feb 16th, 2013 : 26 weeks
T H I R D - T R I M E S T E R <3
27-30 weeks [7 months] -
31-35 weeks [8 months]-
Wanting the baby to make it to at least 37 weeks, but if the baby must come early at least 34-35 weeks
32-40 weeks [9 months] -
Chelsea.
I have 2 kids and live in Hurley, New Mexico
March 8

Hiii :] I am so sorry I barely seen your comment you left im November! Well my first daughter was born preemie but my doctor never said an exact cause. I was 15, in high school, was trying to make an abusive (mental & physical) relationship work. I had morning sickness day in and day out every single day so I was not gaining enough weight. My first labor was... scary. and fast, but I do know now how to change it. I was terrified when I went into labor because I had only looked at the bad stories of early labor, early babies... I wasnt breathing right and I was freaking out. it really helped the second time that I was calm, kept breathing good, deep breathes, remembering that every pain fades away. It helped so much. it helped to have someone I felt safe with also. Anyways I'm sorry I'm so late with my reply, I hope it helps
☠ Meg13 ☠
I have 2 kids and live in Kansas City, Missouri
November 22

Hello. :)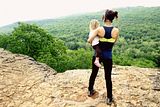 Ozknativmama
I have 17 kids and live in Fayetteville, Arkansas
November 21

That's an awesome compliment :) thanks. We breasted for fourteen months roughly, her dad and I are going through a divorce right now and i have so many stresses on me these days... And not very much time. She still nurses every once in a while but not enough to keep my supply from drying up. Which it will soon. But seeing how I was 19 when I had her, I think we did a damn good job. If you ever need help or advice even before you have your baby, feel more than freee to pm me anytime. I love to help mamas bf. one of these days I will be a lactation consultant.
November 17

If you had kept reading, i mentioned my step daughter on my profile. And i dont add teens who are TTC bc theyre stupid for even trying to have a baby that young..
November 11

I know what that is like but i am 18 and in the same situation he loves his weed and drugs more then me and his daughter. he threats to take me to court for chloey. she wont be born until February 22, 2013. trust me it will be easier on your own as long as you have support from family and friends. i rather do it on my own then with his help.
Chelsea.
I have 2 kids and live in Hurley, New Mexico
November 7

I was, I just had my second baby g**l o* halloween ^_^
November 4

How are you?(:
Rebel♥
I have 2 kids and live in Clearwater, Florida
November 4

hellooooo =]