About Me
SarahElizabeth.

I'm 20 years old.
I met my amazing husband on April 20th 2009 and we got married on April 20th 2012.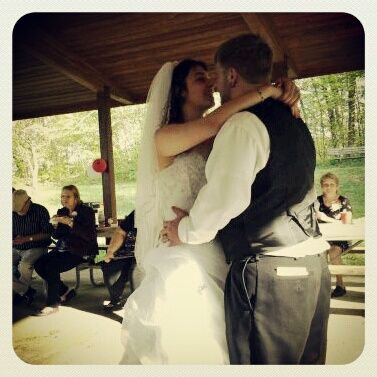 I had our beautiful baby girl all natural on her due date of March 16th! She is perfect. Her little tummy is backwards but other than that there was nothing wrong.
We have two cats, Princess Marie and Kitten.
We have two dogs, Rexton Carter our chihuahua/beagle mix
and Gracie Lou our Pit/Boxer mix.
ABOUT MOMMY

Name: Sarah
Age: 20

Is this the first child?: Yes

ABOUT THE DADDY
Name: Seth
Age: 20
Is this the first child?: Yes

FINDING OUT
1. What day did you find out you were pregnant?: 7/10/2012
2. How did you feel when you found out?: Excited. We had been trying.
3. Who was with you? My husband was asleep across the hall.
4. How did the daddy react?: He opened his eyes and smiled real big and said "You're prego!?" and then went back to sleep.

TELLING THE PARENTS
1. How did your parents react?: My mom cried but she was happy and my dad said it was a puppy :)
2. How did his parents react?: His mom is super excited (its her first grandbaby) and his dad just said congrats.
3. How often do they call to check on you?: My parents call/text me everyday his mom texts me every other day.

ABOUT THE PREGNANCY
1. When is your due date?: March 16, 2013
2. How far along are you right now?: 25 weeks and 6 days
3. Have you had an ultra sound?: Yes
4. Have you heard the heartbeat?: Yes

SEX OF THE BABY
1. What do you want. Boy or Girl?: Didn't matter.
2. Do you know what you are having now?: Yes, it's a GIRL
3. Are you happy with what you are having?: As long as Baby is healthy I will be happy.

ABOUT THE BIRTH
1. Who is going to be with you?: My husband and my mom.
2. Are you going to video tape it?: Nooo lol
3. Natural or medicated? Natural.
4. Do you think you will have a c-section? I sure hope not.

5. Do you think you will cry when you first hold your baby?: Of course.
6. Do you know what you will say to the baby when you first hold it?: I'll probably be crying to hard to talk.
7. Are you scared about the labor? Yes very.

NAMES
1. Do you have a name picked out?: Yes. Annellen Leigh
2. Is your baby going to be named after anyone?: Yes she is named after her Great Grandma Joan Ann and her other Great Grandma Leila Ellen. She gets her middle name from her "Aunt" Shawna.
3. Did the daddy help pick the name?: Nope but he likes it.

OTHER RANDOM QUESTIONS
1. Where was your baby conceived?: Probably our bed.
2. Have you felt the baby move?: Yes all the time
3. What was your first symptom?: Late period. My periods were never that late.
4. Will you have godparents?: No.
5. What is the babys room theme?: Winnie the pooh and anything animal print.

6. Are you ready to be a mommy?: I can't wait!
7. What do you think the baby will be a "daddys girl/boy" or a "mommys girl/boy"?: Well Daddy wants a hunting/fishing buddy so I'm hoping she's a daddys girl more then a mommys girl.
ƒideℓis ϟ
I have 1 child and live in Cherry Hill, New Jersey
December 3

March 2013 Siggy Pick Up: <a href="http://forum.baby-gaga.com/about2377487-2.html">http://forum.baby-gaga.com/about2377487-2.html</a> :)
ƒideℓis ϟ
I have 1 child and live in Cherry Hill, New Jersey
November 30

Come chat with me if you want to. :D <a href="http://forum.baby-gaga.com/about2391747.html">http://forum.baby-gaga.com/about2391747.html</a>