MommaW
I have 4 kids and live in Florida
July 24

Hello my name is Ruth. I also have four children and am expecting our fifth which was a total surprise to us. I have four boys and would really love to have a girl this time but as long as the little one is healthy. I am due december 11. Good luck to you.
March 27

HELLO MY NAME IS VANESSA I'M 16 WEEKS , JUST PASSING THROUGH TO SAY HI , I'M NEW TO THIS ..:o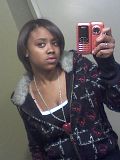 3R!K!T@
I have 1 child and live in California
June 5

hahaha, i love the last post u did on tht chick tht had all them candidates for babys daddy! lmao...why would she go on there if she didnt want ppl to say what they felt! ugh...i hate stupidppl! lol
Grid
I have 4 kids and live in Ontario
May 29

Hi Amanda! Your story sounds similar to mine ... right down to the three boys and one girl we currently have. My pregnancy was a surprise as well. My first four kids are from a previous marriage. My husband had a vasectomy 20 years ago (he talked a navy surgeon into it when he was getting his appendix removed at age 22) and we were "good" with not having kids together. "My" four were more than enough for both of us. It was a supreme shock when I discovered I was pregnant -- his surgery has reversed itself. Don't worry, the shock will wear off! Good luck!