January 4

What are you doing on here?!?!?! :D :D :D :D :D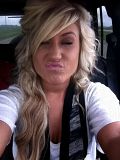 June 26

Thanks! We're excited.
June 5

Hey I want that coach purse.
I love staying home too... it's the lard a*s in me.
You're not working anywhere ATM? Hows Zak doing
Good! LOL at your avi.. hows things in the Pitt?
Mrs.Husted
I have 18 kids and live in Edwards, California
January 16

Happy Birthday!
November 13

I see you online and you know what? I miss you! When do we get to hang out?!
September 3

Thanks mama...missing you! Hope all is well!

iNinja
I live in Jackson, Missouri
August 5

LIZZ! Holy crap you're online! :D
March 19

haaay woman... your comment page needed some love, so i thought i would say hi. hope you and zak are doing well. we're about to finally get our own place, after 9 months with the in-laws. it's a good thing too, because i'm about to start beating some a*s. love you.
February 18

LOL i don't blame you though.