About Me
I'm 26 years old and married to the love of my life. I have a 6 year old little boy who is so excited and alittle nervous about becoming a big brother. DH & I have been married for 2 years, although we've been together now for 7 years. He was there with me through pratically my whole pregnancy and has helped raise my son as his own ever since. This man is my rock, and I simply can not wait to add to our family. September can not come fast enough! I have recently made the change to work from home, and I love it even if my boss does not. DS has begun the first grade and we are not so patiently awaiting the arrival of our princess Miss Kannan Leigh Belin!!
ೋKristyೋ
I have 1 child and live in Italy
April 19

Congrats on the Girl - I'm having one too!! My hubby got home for good a week ago and we just had our ultrasound on Wednesday. The first thing he said is "I suppose I'll be sporting pink toenails once in a while". :D
February 8

that is so fuuny my husband did the same thing, we were just going to tell our family but he told every single person he saw even the waiteress at the restraunts we go to. Its cute that hes so excited though, so I just go with it.
February 5

23rd! thats a grand day! lol that's my birthday! :) hopefully they wont adjust it to much... yea im glad its just a week off, and the baby looks healthy and the heart beat was healthy! that was so amazing listening to the heart beat! :)
February 5

hey long time! how are you? so i got my Ultra sound on Friday and she changed my due date :( to Sep. 10th but my doctor said its more likely Sep. 8th b/c of Lutheal phase or whatever i dono lol. so im going with Sep.8th =)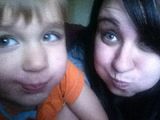 Re Re
I have 3 kids and live in Ontario
January 26

Aw I just read your profile and that's soooo cute! Congrats :)
hehe your hubby sounds like me! The first time I got pregnant I was in cosmetology school and everyone knew by the time I got a positive test because I had been asking so many questions about symptoms and what not. I lost that baby so I know how you feel! Im preggers again I thought I was 4 weeks but the calculator says Im 5, do you think its accurate? Anyways I really wanted to wait till week 12 to tell eveyone but Ive already spilled the beans to a few people! Its so exciting its hard to keep your mouth shut!

January 18

LOL that's really cute - your hubby is excited!! Congrats!!! I've had 13 m/c myself over 12 years ... this is my #4 and I'm so anxious - and will be until we get through the seeing the heartbeat, thefirst trimester, to 24 weeks... to the baby being here... safe and healthy!
January 15

hey girly!! go check out the pregnancy models on this site. it made me feel better cause im really tiny and all of a sudden i already have a baby bump!!! but then i saw some girls on there and they do to at 7 weeks :)
Jessica*
I have 1 child and live in South Carolina
January 11

We have the same due date! :)