About Me
OLIVER NATHANIEL OR AMELIA MAY
ill introduce myself to everyone- my sory
if you'd have told me when i was younger i'd fall for a 36 year old i would have laughed right in your face,,, me never...or thats what i thought,,,,heres my story.....
Well, i'm Hannah, 17 in foster care will soon be moving into a supported housing commidation untill i'm 18 when i get my own flat, i'm not sure if i'm pregnant but i've been seeing someone i shouldn't have. i've been seeing a 36 year old who has 3 children and s girlfriend, i never expected it to turn out like this and if you would have told be abit back i'd be dating a 36 year old at 17 i would have laughed straight in your face, but here i am and this is how it happened, well we've been talking ever since he started this job he's in (wont say what job, wont give too many details), and a few weeks back i wasn't getting on with my foster caer at all, i'd sit out in the cold every night till about 9, then one night he saw me he othered to take me home after he'd finished work, i agreed. well we sat talking for awhile and it took him an hour to get me in his car, i didn't want to go home till latish so he took me the long way home, but i'd realised id lost my phone so we went back to find it (we found it), so he took me the quick way home, when he dropped me off i gave him a hug, and what happened next neither of us expected, we started kissing, then i saw him that thursday and friday aswell, but we didn't sleep together till the week after, we didn't use contraception, i know me seeing him his bad but at the time it doesn't seem wrong, if i am pregnant i don't know if he'll stick around, dought it but i wont have an abortion i've already made that decision, well theres my story so far i will keep you updated!
March 21

I didnt mean to chastise you. Just a difficult thing to imagine. I cant beleive how hard it may be. Would you financially be able to take care of the baby? How would your foster care parents react?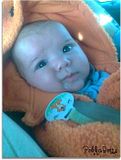 PokkaDotts
I have 2 kids and live in Cranbrook, British Columbia
March 20

I wish you good luck girlie, even if he don't stick around, you can do it by yourself. I aint here to tell you what a mistake it was or make you feel bad, I'm here for ya if ya ever need someone to chat with. Keep us posted and good luck :D
March 20

Well its hard to think of something to say to this topic. I think what I should say is ARE U CRAZY?! Ok here is some advice.. usually men who have 3 kids and a GIRLFRIEND are off limits, only want one thing from a 17 year old, wont help you if you are in trouble, and the big one.... a*****es. He may not have seemed like it but u even said u dont think he will stick around. Plus use protection. In all technicality he was a stranger. Keep us updated and take care of urself. No more of that shit though.