About Me
My husband and I had our beautiful little g**l o* July 1, 2008 AND we just found out that we are pregnant with #2...I am either due on June 16 '09 or July 19 '09!!! Let me go about saying one thing...this was not planned! We were completely shocked, cried and freaked out when we found out. But, now we realize that it is a blessing. No, I do not take offense to "Irish Twins"...it perfectly describes our situation at the present moment!
June 17

Congrats on the next July baby! My son was born july 24th 08...Its a great month... Oh I also see you live in MD... Me Too :D
June 11

hi there, we just found out that we are having another one also. My last son will only be 1 year and 2 wks old when the new baby arrives. How long did it take you to really get over the shock and get excited abouthaving another baby? Another thing I was wondering was - did you have to buy a 2nd baby bed?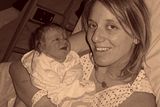 Mama B.
I have 1 child and live in California
April 9

Very cool =-). You knowI looked more @ your profile & saw that after I asked. Do you have a name picked out for him?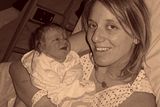 Mama B.
I have 1 child and live in California
April 9

Congrats =-), My Little Guy is 18 months right now & I'm due July 22nd with his little brother. We did hope it would go that way, I'm 34 & we wanted to have 2 little ones before I turn 35. I'veheard many comments about how it's hard having them so close, but people always say it's wonderful especially as they grow & play together =-). Have you found out the gender on your 2nd?
January 19

This is our third July baby. I have a 5 year old, and a one year old, both boys. We say that July is our luck month!! Well, congrats to you!!
November 29

i had a set of twins before i 1year old turned one, so for one week i have a year i have 3 kids that are the same age, he he , i now have 5 kids and we are now expecting #6 and the 3 little ones get along better then the older ones, lol