October 4

salaams sister. i am Muslim also. so i just wanted to give the greeting!
September 2

Ramadan Mubarak to you! Yes I am fasting. Jamil was born during Ramadan last year so obviously I couldn't fast then. He is eating a lot of solids now though, and it is going well. Today is the first day of my fast though. It's not any harder than it has been previous years, so hopefully I will make it the whole month, Inshallah.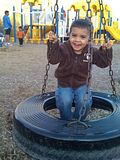 August 27

Thanks! Yes we do monthly for the first year. We go to Jcpenney. I see you are alsomarried to aIndian man. Yes our daughter is currently in India with her mom until next Tues shes been gone a month. Did you have a boy or girl?