About Me
I am due October 25th !
HIYA --- My name is Cyndi.I am 22 and I am from Goldsboro, NC. I am currently 12 wks pregnant with my first child. I cant wait. My fiance and I think we are having a girl and we are excited ! :D We have the baby name chosed already ! I am due October 25th which is his (deceased) father's birthday ! Weird, eh?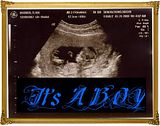 May 5

Hello My name is Elyse I see we are the same age and close to the same due date!!!! I hope you get your girl! We are having a boy:) Thats what we wanted so we are soo happy about it! Hope your pregnancy is going well!