About Me
C:\Documents and Settings\Owner\My Documents\My Pictures\ultra sound pics\atalia pt7.jpg
Hello!!!!!!!!!
Hello to all alike!!

I'm new here, but I'm not a first time mommy. I just found out I am pg, after having infertility problems. This baby is natural, as well as our 1st child, his name is CorDre and he is 7 yrs old.

I am Kya 27yrs old and my Fiancee's name is Marc 26 yrs old. We've been together for 8 yrs. We are which you call highschool sweethearts, we have 2.5 children. Well, if you count our doggy. We are also getting married June 23rd of this year, so this is a big year for us.
Kya
I have 2 kids and live in Delaware
March 28

We're today officailly 8 wks along.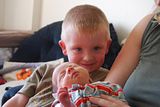 twiggie
I have 83 kids and live in Ireland
March 26

welome an congrats how far along are you?

March 26

Welcome and Congratulations!!!