About Me
My name is Cassie and I am the proud mommy of Acacia Mae. She is truly my heart and soul. I am a newly single mommy but working hard to better my life and the life of my daughter. Acacia is my biggest motivator in life and every day I strive to be a better person than I was yesterday for her.
Acacia was born on August 25th, 2008 at 10:36pm. She was 8lbs 2oz & 19 1/2 inches long. She may be little but she has a huge personality.
April 21

She is TOOOOOO cute! I love her facial expressions, you can totally tell she has a firecracker personality! :D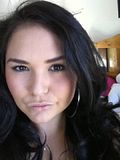 February 12

thanks :] so is your baby girl. i love love her name.
January 12

hi just curious where in idaho you are? im currently in idaho falls. you have a beautiful baby, btw.!! :D
November 3

thats cool, ya we went to oregon instesd holy crap was walmart buzy lol
November 2

oh thats cool what kind of music do they play?
November 2

oh were doing good, shaylas trying to crawl shes got the whole rolling over thing down pat, ya me and my sister might be going to boise on the 2nd not sure tho we might go to oregon where there is no tax to go food shopping what about you what are you up to lately??
well, I went to pojos does that count haha, um I dont really go out of town that much but if I do I go to like caldwell or newplymoth or some place close. oh you went to cherryfest soo you must have been prego when you went, shayla was like maybe 2 months at the most not verry old, well heck if your ever in emmett or if im in boise well have to hang out or something, go to the mall its been like 4 years sence ive been to the boise mall lol there is like no body here i swear they all ran away.
oh ya, so have you been to emmett latley or do you stay away lol
ahhh ic now lol ya I rember darla, the rest id have to see a pic the reason i know darla is her brother dylan yaI went to school with mindy mitchell and trever mcmillanect lol
ya I got pulled out to be homeschooled in the 8th grade, so I bypassed the whole dolly pardon experiance lol soo who did you go to school with im trying to think if i know them, because your only one year older than me lol
oh ya so you went to the b**b school huh lol ya it s***s down here lol
What part of idaho do you live in??