April 22

i havent been on in forever, but i see baby erik is here! congrats momma!
March 5

CONGRATS on your baby boy..........................................................Stacy

February 6

Well good luck! I will be praying for ya'll! Good luck with labor also! It's awful!!

February 1

Well good luck! I hope your baby comes on time and not early!! The NICU is not fun!! They regulate when you get to hold your own baby.. I hate it! What are you naming him?

January 25

they put me on turbutaline and keflex to stop the contractions and so i dont get and infection. but they should have put you on bed rest...im not allowed to to stop my meds till 37 weeks..and im on rest till i have him..but good luck and keep him in there as long as you can and if they put you on turbutaline you will not sleep at night..

January 25

preterm labor uhh..its awful..thats why im on bed rest just stay on the meds and stay in bed and do what the doctors told you to do..did they put you on bed rest? and what meds do they have you on?
like crap! i found out the reason i cant sleep at night is because of the meds im taking a side effect is uncomfortable sleeping. but after my baby shower i started having contractions.but i waited them out instead of going to l&d..but how are you and you little boy?
i had my babyshower 2 days ago and we got everything we needed and nothing the same..so we've been putting everything up and its just making me sad because i see all his stuff up but he's not here yet..but icant wait for him to be here.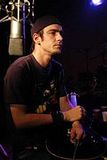 January 16

Yeah I am due a few days after you, but I have a feeling Emily's gonna get here alot sooner then expected! My doctor told me not to expect to go past 38 weeks! How is your pregnancy going? Congrats on the little boy!