About Me
I'm Due July 26th, 2008 5th baby. Dont care what sex since we have two of each already. As long as the baby is healthy. But hoping for a girl. Married to a Army man for ten years and have two boys and two girls. Ages are 2 to 8 yrs old. Dh is currently Deployed in Iraq. May he stay safe and come home soon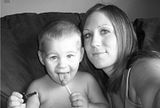 February 20

Are you excited to find out what your having?? 2 Days!!!
February 13

I was sick on and off with this pregnancy up until last week. I have been feeling pretty good this week tho. I am wanderingis it normal to show this early in pregnancy cause I am? Also I feel the baby kicking already not just flutters. I am a little worried that it could mean that I have gestational diabetes or something. Any advice would help. Thanks for commenting me I just figured out how to check my comments...LoL. Amanda
February 12

thanks so much! I've been doing alright today, but there is no doubt that you will probably end up hearing a vent sooner or later. I get emotional super fast and super bad. Hope you are doing well too! :]
Mila09
I have 1 child and live in Netherlands
February 5

Hej! Im doing allright,cant wait to see my baby:D im so curious. Hope u are fine too,are u showing allready? I wish u a great week aswell:D XMila
.|..
I live in Beverly Hills, California
February 2

actaully its my MIL ... yeah she JUST in Jan had her 12th ... so Brycens aunt is younger than him, weird huh
.|..
I live in Beverly Hills, California
February 1

Haha ... where did you see that im 17? i am, but im jw .. and I have 1 but my MIL really has 12 .. crazy huh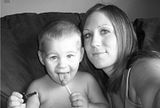 February 1

I live in good ol kingamn lol how about you?? Yea im way happy??
January 28

where did you get the image of the baby its awsome... and i cant find it anywere
January 24

where did you get that thing above your name?? i have been trying to find it.
Hahaha. I dont know if im bloated but i've kind of got a distinguished bump. My dad wants to take me maternity clothes shopping and every calendar i read says that i should start getting maternity clothes or wear loose stuff. Every calendar i read says that the gender is visible so when i go to my doctors appointment next month im going to demand that my midwife tells me what the sex is. Waiting until twenty weeks is pureeeee torture!
She is lucky. I dont know what she had i think that all se had was a regularultrasound. Thanks. i like to look at different pregnancy calendars because they have different things. So are you showing yet?
where did you get your avatar from.