About Me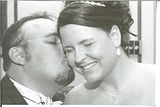 October 20th, 2007 my best friend became my husband. He is the soul mate I never thought I deserved, or believed existed!
BABY BESSESEN #3 DUE OCTOBER 28th!!!!
February 14th, 2012- Woke up bright and early to go to the gym, and even though I'm 4 days from a missed AF I took it anyway.......it was a very faint but very visible line!
Feb 20th-first OB appt.- positive pregnancy test from doctor and sent for blood work.
March 15th- Doctors appt, regular check-up. started feeling nauseous at 6 1/2 weeks. BLAH!
May 7th- OB Appt. Heartbeat 147ish. I've been on zofran for well over a month now, pretty much can not function without it. I ran out of it yesterday, so today I thought i would make it until I at least talked to the doctor.....nope, puked in the office bathroom, puked when I got to my van and puked again when I got to my church......needless to say I took the day off from work.....
May 9th-had some cramping and light bleeding with my discharge. Doctor on call recommended I go to the ER and get checked. Luckily everything looked great! Got to hear heartbeat, and got an impromtu ultrasound....wasn't able to see what baby is hiding between those legs...
June 6th- Ultrasound day!!! Baby Girl #3 on the way! So crazy excited!:)
June 28th- Caroline Grace....22 weeks and 4 days as of today, and I'm so excited to meet her!
August 14th- did my 1 hour glucose screening...failed. Happy Birthday to me anyway. lol
___________________________________________________________
UPDATE ON MY LIFE....unexpected surprise! I m pregnant! Lo is due May 12th, 2012. Dh is super excited....to be honest im a little scared...
UPDATE: September 9th, due to some heavy bleeding I went to the ER and it was determined, but not yet official that I was having a miscarriage. it hasn't quite sunk in yet...
SEPTEMBER 5TH, 2011- BFP! Af isnt even due till tomorrow...
SEPTEMBER 8th, 2011-2nd BFP! and AF definately is a no show
SEPTEMBER 9th, 2011- Heavy bleeding, went to ER, hcg levels very low. having a miscarriage. :*(
- On July 7th, 2010 we welcomed Sydney Lynn into the world. My labor was FAST! I went into the Hospital with mild cramping and found out I was already 7 centimeters dialated! With my hubby a good 45 minutes away I was panicked...he made his way to the hospital as safely and quickly as possible. When the nurse checked me the 2nd time she broke my water and came to find out I was 9 cent and had ZERO time for any drugs....my DH was still not there...at about 1:15pm my DH fianlly got there and 10 minutes after that the doctor showed up....after about 20 minutes of pushing Sydney Lynn had arrived! She is beautiful and perfect!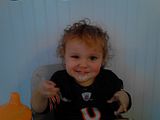 Sydney Lynn
November 2nd- Missed AF
November 3rd & 4th- 3 very enthusiastic BFPs
December 22nd- 1st doctor's appointment- Picked up HB
December 30th- 1st U/S- S/He VERY active!
January 22nd-1st doctors appt with my actual doctor...(silly medicaid)
HeartBeat about 140 BPM
January 26th-Laying in bed on my back-low and behold I felt my LO kick
for the 1st time!
February 4th-DH felt baby kick for the first time! DH wasn't nearly as excited as I
was. oh well...stupid men!!
February 23rd- Doctors appointment, forgot to ask about the HB- U/S scheduled for Thursday Feb.25th at 7:00pm
February 25th-7:00pm- ITS A GIRL!!(currently little baby no name)
March 29th- regular appointment. I see the doctor again in 3 weeks, and then I start my every 2 week appts! I can't believe how fast this pregnancy is going!
April 19th- regular appointment. I get to go for my glucose screening and I get to have my much awaited Rhogam(sp?) Shot...yay...
April 24th- Failed my 1 hour GD test...gggrrrr! Get to go back in a week.
May 1st- 3 hour Glucose Screening....Passed!
May 3rd- Regular Doctors appointment- Nothing out of the norm- HB in the 140's
May 12th---Found a House!! We won't be homeless after all. lol
May 17th- 32 1/2 weeks along......only 7 1/2 weeks to go....seriously where did the time go??!!
June 1st- 34 1/2 weeks...doctors appointment today. My BP has been a little high my last 2 appts. Doc doesn't seem to worried about it. Then again he doesn't seem to worry about much of anything.
June 14th- 36 1/2 weeks...Doctors appointment went well. I got my Strep B swab done. Fun fun! He didn't even warn me....oh well at least thats out of the way. I am down to my once a weeks appointments.
June 21st- 37 1/2 weeks....SO ready to be done! Nothing out of the ordinary at the doctor.
June 29th- 38 1/2 weeks!! I'm in the home stretch, I can see the finish line....Doctors appointment went well, her head is in place. My DH says if we have her on the 4th of July we're changing her name to Liberty Belle...I'm not so sure about that.....
July 7th, 2010 at 1:49 pm Sydney Lynn was born!!
OLIVIA JEAN
January 18th- Missed AF
January 19th- BFP(3 times) Can we say denial??!!
May 2nd- First appointment with my OB
May 7th- Found out we expecting a princess!(so excited)
May 24th- Felt her kick for the first time! (she didn't like it so much when I rested my book on my belly while I was reading.
Sept 17th- 1 more week left!!
Sept 21st- Welcome Olivia Jean!!!
July 5

Hey there! It was a welcome change that's for sure. I honestly don't miss my job, but do miss the adult interaction. I have loved being home when the kids get out of school and being the one to care for the baby. I try to get as much adult interaction as I can now, whether it be friends, church, or even just a trip to the store with DH. Now that she's a year old though, I'm ready for a little more freedom...it's tough though, because she's still such a boobie baby :)
June 28

Thank you so much!
June 28

Thanks for your sweet comment! You have a lovely family :)
June 27

Thank you! = )
February 5

o ok so if she does it and starts laughing that i should know shes ok but if it scaees her and starts to cry i should pick her up and comfort her
February 5

was it hard for you when your first born started walking and started gettings bumps and bruises
October 5

I am just glad it was able to help people. I wasn't trying to look for sympathy by telling my story, but I didn't think it would be right for me to try to help others if they didn't know of anything I went through. Keep your head up mama, it does eventually get easier.
October 2

Sorryto hear about the miscarriage. I'm fine. I get some indigestion now & then but I've been dealing. If its a boy its going to be Jermaine Jr. If a girl were thinking Nevaeh but not definite about that yet.
September 5

lol aww yeah this is my second but his first.. i think im still indenial.. we just started trying august 3! & i got a BFP on sept 1.. its so unreal.. i took 15 tests total lol & i still wanna take more just to make sure. i know im crazy! but im so excited.
August 15

Happy belated birthday!!! Sorry I am late I have been moving all weekend :( I got my tattoo friday and hung out with a couple of my girls for the night then the next day we got up and went to my apartment packed it up and moved some of it then yesterday as well we moved my stuff, DH is out of town I hope coming home today so then he gets to help move the rest of it lol!!! Sorry about your bfn! I dont think this month will be my month either... just remember good things come to those who wait! How was your weekend?
August 12

Good I am so glad that the girls are happy there that is awesome!! Makes you feel better about them being there huh? The earliest that I can test will be next friday and I will only be like 10 DPO and it is already killing me lol!! I am getting my tattoo for my LO it will be his name with DOB and 2 little baby feet on my wrist!! I am super excited!!! I have 5 right now and plan to get a few more!! Hubby has 8 and wants to get more too lol we love tattoos in our house!! I get to have a last b-day with my hubby too so I know that feeling s***s but cant change it lol!!
August 11

Wow that is crazy!! So did you test to figure out that your not prego now? I dont blame you for one second for pulling your LO's outta there!! If we lived in the same state I would do daycare for you that is what I do now! And dont forget that if you were to still TTC you have 9 months to find a good daycare that takes little ones too!! My DH just found out that he wont be back till next week sometime I am super sad!! My birthday is tomorrow and for the past 3 years we have not spent my birthday together.... s***s so bad we even live in the same state this year! So I am going with my friend to get tattoos tomorrow and I got my new diamond the other day now all I need is the hubby!!