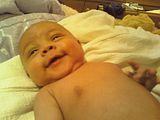 August 15

I am good and you?? ready for your lil mama to be here?? i am sooo ready for my lil man to be here!! hope everything is good and cant wait to see you lil one!!
May 27

ya i have a myspace its www.myspace.com/young_n_classy
May 22

no we arent gettin back together i havent even spoken to my baby daddy at all and dont want to!!
May 19

me and the baby are doing great how bout you?
May 7

just a bunch of drama nd its where i cant have him around but hey its for mine nd my sons safety
May 5

thats pretty!its very unique and i like that in a name.
May 5

ya im happy but it sux for his daddy that he will never see him but oh well not my fault he is the one who fucked up..
May 1

I know what you mean. i thought that day would never come. have you thought about any names just yet?
April 3

thats is cool...aww did you cry cause i almost did...
March 30

ya but it will all be good im sure you will do just fine =] do u have a dr.appt yet?
March 21

well that is good atleast they are understanding my mom was very understanding from the beggining but im glad you had a good day and im glad everything went good no problem anytime
March 20

well thats good you really need to go!! well that is ok she will come around eventually may be not when you want her to but she will eventually! it will all get easier