Nicola - BG Trainer [HBC]
15687 Posts | Joined BG: Feb 15, 2008
Last Visit: 5 years ago
Age

33



Gender

Female



Status

In a Relationship



Work

Program Coordinator - Client Services



Location

Boca Raton, Florida



Interest

My daughter Makenzie, Working out, Myspace, hanging with friends, and most importantly being with the man I love and adore




Makenzie Denise is now here!! :D
She made her entrance on Monday, October 13, 2008 at 5:49pm weighing in at 8lb 10oz and 19.5 inches long! She is the love of our lives! Nathan and I couldn't be happier with this precious little angel!
My Beautiful Family
Makenzie's Stats:
1 week checkup
-
8lb 8oz (from 8lb 2oz when we left the hospital), healthy baby girl!
2 week checkup
-
8lb 15oz, still a healthy baby girl... doc put dye on her umbilical stump to help it fall off, it ended up falling off that night!
1 month checkup
-
10lb 6.5oz from b**b milk alone and now 21 inches and her head is measuring 14.5in! We have a colicky fussy diva, but so in love with her!
2 month checkup-

12lb 14oz still only from b**b milk! She's 22 7/8" inches and her head is measuring 16in! Kenzie also received 6 immunizations and she flipped the hell out! She's also still colicky but I have learned how to calm her down! I'm hoping the colic passes in the next month or two!
4 month checkup-
15lb 14oz still strictly boobies! She's now 25.5 inches long and her head is measuring 16.25 inches, overall she's in the 90th percentile for size. I split up her shots this time because at her 2 month shots she had a horrible reaction, so we go back in a month to get the second half of shots. Her colic passed as soon as she turned 3 months old just out of nowhere and now she is a happy and healthy baby girl! She is now rolling and trying to get up on her knees to crawl. When she is on tummy time she pulls herself in all directions, it is the funniest thing ever! Still working on trying to get her to take a bottle, we've made little progress.
6 month checkup-

17lb 5oz from b**b milk AND we added solids in on a consistent basis at 5 months old, I was tired of being yelled at every time Daddy and I ate lol! She's now 26.5 inches long and her head is measuring 17 inches, my big girl! She's been sitting up on her own since a little before she turned 5 months old. She has become way more vocal and social and loves being outdoors. She is trying desperately to crawl but just gets pissed because she isn't going anywhere lol. She can now lean against things on her feet for short periods before she topples over. We still haven't made any progress with bottles, so we went straight to sippy cups which she does way better with but still needs lots of practice.. and she STILL won't take ANY formula, AAAAHHHH! All in all she is happy, healthy, and SPOILED! lol :D
9 month checkup-
21lb 4oz, now Kenzie gets organic formula during the day and she nurses at night, probably 3-4 times a night. She's now 27.75 inches tall and 17.75 inch head! She didn't get any shots thankfully. They just checked her iron levels and she is extremely healthy! Kenzie has been crawling since 7 months old, that same day she started to crawl is when she started pulling up on all the furniture and cruising! Now at 9 months old she can stand by herself, and can take a good 2 steps by herself. She says "mama, dada, baba" and tries so hard to speak, but it just comes out as babbles lol. Still no teeth yet! Kenzie is spoiled as ever and still a little diva. She is picky too, and will let you know the things she doesn't like. We have a little dancer on our hands now too! Anytime she hears music or hears me or daddy sing she likes to drop it like it's hot, cutest thing ever lol!! Oh and she's been eating table foods since about 7.5-8 months old, and she eats it ALL!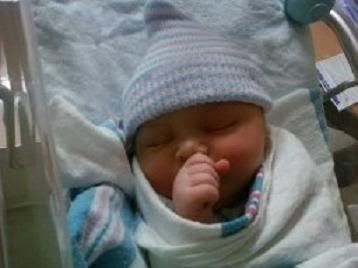 This little girl is my world now!!
My name is Nicola, but friends call me Cola for short.
I was born in NY, raised in NJ... moved to FL 8 years ago and never going back!
So YES, I am a Jersey Girl at heart!
I'm 26 years young!
My daughter Makenzie Denise was born on October 13, 2008 at 5:49pm.
The birth was an unplanned c-section, the induced labor was not progressing.
I went overdue by a week!
I gained 54lb while pregnant.
I was a huge party-girl,
BUT I am looking forward to limited nights of freedom at some point.
I'm strictly BF'ing, but trying to incorporate bottles of formula, but she still REFUSES any bottle, even with my breast milk in it!
I am anti-CIO, unless I need to pee or cook meals.. and she is right next to me anyway!
I am pro-choice.
I'm a part time baby wearer. I wish I would have bought a baby wrap/sling instead of this front pack carrier that KILLS my neck, shoulders, and back!
I fed stage 1 solids at 3 months old, and only feed it to her once a day when I remember, sometimes she gets none. I'll only start giving her solids everyday when her pedi okays it. And yes she LOVED all of it.
It irritates the hell out of me when I hear that a mom lets her 2 week old CIO, I seriously would like to punch them in the throat.
Nathan is the Daddy, also the love of my life!
We are co-sleepers, we didn't plan on it... but we have a fussy little girl. ;)
I'm a loud mouth, not afraid to say what's on my mind type of woman.
My loud mouth gets me in trouble, A LOT.
Slow drivers piss me off, dumb people piss me off as well.
I'm thriving to be the MILF I've always imagined myself to be.
I'm a gym-a-holic!
I'll be the Mom in the supermarket wearing stilettos and low-cut tops pushing the stroller.
BabyGaga is my social networking site of choice. :D
The two loves of my life!-