September 20

i dotn knwo is i told you already but congrast !! I am sooo anxious for my little guy to get here !
September 17

Yaaayyy congrats...still waiting for my turn. Anious 2 read the labor story...ttyl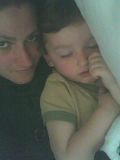 September 15

congrats on your baby gurl. she's adorable
Holly ♥ Scentsy
I have 2 kids and live in West Bloomfield Township, Michigan
September 14

congratulations on your beautiful baby girl!!! :D
September 13

oh my goodness!!!! congratulation on the baby!!!!!! shes so precious!!! shes to cute!!! good luck mama!
Thanks :D and nopeee! I guess she just wanted to meet mee :)
Oh man I know how you feel lol. Yeah she really does!! She wasn't so happy when she found out I was pregnant but once she saw her she was in love lol I could see it.
Lol I was just cursing the whole time. HAHAHA. Then after I looked at my mom like "you're right" and just forgot about it. It's not TOOO bad lol
LOL yeah I'm a little weird sometimes! She was originally due on Sept 14 but She was like 3 weeks early lol. Nothing I'd ever expect. My mom told me the pain she felt was something she'd never felt in her life. She was right. I'm sorry if I'm scaring you LOL but don't be nervous. The medicines they give you dull the pain down. A LOT. But since mine wore off I felt the crowning, but that's it.
Yeah he's an asss! But other than that I'm awesomeee :) & mine was better than I thought it was gunna be :) It hurt like a b***h but it was worth it lol. Everyone gets nervous! Before I left for L&D I was walking around my room going "oh god oh god oh god" LOL at like 1:30 am. :P
Tracy P
I have 1 child and live in Columbus, Ohio
September 2

Well hang in there girl! I actually had my bundle yesterday, Sept. 1st. I am so happy, I had no clue he was coming 5 days early but maybe your baby will make a surprise arrival also!
Tracy P
I have 1 child and live in Columbus, Ohio
August 29

I'm only 1 cm dilated! :cry: :cry: :cry: I am so sad! It seems like this baby doesn't know that its time for him/her to come into the world! But I have been having some mild contractions so I think, well I hope, that I maybe dilated some more by next appt...its next Weds.