About Me
Hello all:]
My name is Krista.
I'm 21 years old.
I live in Evansville;;Indiana.
I'm engaged to an amazing guy----Gregory Wayne.
My son was born 12.06.07.
It was the greatest day of my life.
5lbs. 14oz. & 17in. of pure perfection.
He makes me soo proud.
My little girl was born 07.07.10
Weighing in at 7lbs. 2oz. & 19in long.
Slightly bigger than her big brother.
I'm a stay at home mommy as of right now.
I hope to go back to school soon for some type of nursing.
I'm addicted to Desperate Housewives.
I love music.
I like to read when I find the time.
I love to shop.
My addiction is baby clothes, shoes, etc.
I spend my days watching toy story, picking up toys, & changing diapers.
But it's what I love doing.
Saraphina Nicole
Birth-7lbs. 2oz.
2 days-6lbs. 12oz.
5days-6lbs. 9oz. (Dr. Appt. to check jaundice levels. Everything was good)
2 weeks-7lbs. 1oz. (Dr. Appt. for weight check. Found out she had thrush & a double eye infection.)
Next Appt. August 4, 2010 @ 9:45am.
August 17

your kids are sooo cute!
December 21

Aw your son is super cute! Congrats on ur pregnancy!~ Im in the same boat as you, I have a 2 year old and ill be 10 weeks pregnant tomorrow with baby #2! yay. :)
June 24

Landon is gorgeous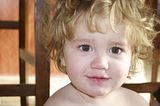 May 6

Did you test yet?
....---..f.-
I have 2 kids and live in Beverly Hills, California
March 15

Hey Krista. aww that is soo cute..thay do the cutest things..Liana says shes flattered..lol...he is super adorable!!
March 10

Thank you! I think every post Amber makes is drama LOL. I normally get linked to them, but I've noticed that it's practically every single post she makes it turns into drama :twisted:
February 19

Happy Belated Birthday!
January 19

your son is so cute!! I was happy bwhen I finally got to have my little guy!! I had trouble getting pregnant and thought I would never get to experience the life of being a mommy!! But I finally got too and there is nothing like it!! I was wondering if Evansville is near Seymour? I was born and raised there untilI was in 5th gade!!
January 2

I saw a picture of your son in a thread a girl posted asking if anyone wanted siggies, it was a picture of him practically sitting in a piece of cake that he had smeared all over himself. Anyway, I just wanted to tell you that he's sooo adorable and you're an awfully lucky mama. I just love that picture of him. :)
December 9

Aww!!! Good, I'm glad he had a great time!!! And lots of presents its amazing!!
December 7

Happy Birthday Landon!
September 18

OMG I have always loved Landon too and Wayne is his daddy's middle name to weird lol