About Me
Hi,
I'm a mom to 6 and proud of it!!!! Oh and lucky number 7 is on the way! This is it folks no more babies coming out of my body after this! I would love to have 8 but I plan on looking into adoption or foster care-time to share the love with someone who wants it.
My kids are great!
I try my best to give to provide them with a decent childhood loaded with fun memories,friends,activities,and love.
I however stress education to them...there is a time and place for fun but education first!
I've been married ever since I was 19 and have found the journey most interesting, and an mind blowing experience. I think you should have to do some form of training and have to take a test and pass- before you get married and have kids... You can really mess things up if your mind is not right!
Thankfully I have learned from others mistakes and always remember this is a "until death do us part deal." Marriage will really test who you think you are and make you really think about what are you doing to better the relationship..For me I have learned you just can't take you have to give- sometimes more than you want. But it has to be for the greater good! Trust me I know my husband has given for the greater good as well I and it makes us better. I don't know why..it just does!
So with that said.......I love my husband....
I am a Virgo to the extreme! I love jazz music,the smell of the sand and ocean.
So I am a virgo to the extreme I love the sound of the ocean and the smell of sand.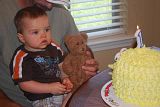 March 14

wow i dont know i really like the frog that you scoop tub toys up with, i dont like wet stuff left in tub. the pack and play will be used for a bassinet in our room that will come in handy,i like the color monitor but i dont know if that will be handier than a reg. one or not. i would not have paid for it myself, my bf sister wanted us to have it. i have a 15 year old and i havent really seen anything yet that is like wow how did i live without that. nope i went and looked and here it is dont laugh the most useful items ( keep in mind i havent had to put these to use yet ) is #1 the seat protector for the carseat, go's under the infant/child seat to catch all the spills and drops! #2 the cling on sunshades i have the roller ones too but the cling on ones excite me haha. #3 Podee self feed system. it is a bottle that you can use in the car or other inconvent times the baby s***s on the nipple it is attached to a straw that is attached to the bottle in the babys lap or in the stuffed bear that came with it! i also never had a changing table before and i got one for my shower this time and i love it!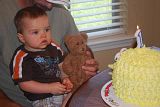 March 7

well thank you it was a blessing. I had a great shower and got most of what i need. i am set to get an iud and oh i hope it works. lol congrads on your soon to be baby.:lol: