October 19

i can't find you on fb!! find me... I think my name is xzaviersmama How the hell are you chick??? You have a new little man coming??????
April 7

Hey woman!!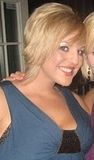 Effing N00bs
I have 1 child and live in Blythewood, South Carolina
April 1

Thanks girl! hahaha Your baby is gorgeous!
March 17

awwww i LOVE ur new avi pic!! he is gorgeous!!
March 7

:) She said thanks!!
February 7

i wanna c some more pics of him!!!!:D
January 28

hey mama how r u and cheeks doin??
January 5

Congrats Mama!! You finally managed to evict that little man! He's beautiful!
January 5

congrats mama!! he's gorgeous!!
January 5

Congrats
January 1

He'll come soon hopefully today. How the hell did you fall?