April 26

hey how are you i havent talked to you in forever!
THE MRS...<3
status
I have 2 kids and live in Tampa, FL, United States
January 19

hey, hows it goin?
January 11

I am pleased to say that Kylie is potty trained while we are at home. :) she did it out of the blue. She had a couple of days where she had really hard poo and would cry cause it hurt. I was able to put her on her potty and she picked it up quick. Now she goes all by herself and dumps it out and flushes. It took about a week from start to finish. She still wears a diaper at night and when we go out. Our next step is when we arent at home but I think it will come naturally. Everyone is pregnant I swear to god! Its making me miss it and want another. So start ttc now since I swear its in the air or something.lol Kylie at first just didn't really pay any attention to her. I mean she did but she didn't know what she was really. Keep in mind she wasn't even 2 yet. Now she kisses her and hugs her. She knows her name and calls out for her a lot. she wants her to come play but she cant yet obviously. Things are better now that she is a little older. I think once my period returns I will start ttc again for my last baby. If I had a period I would be ttc right now. I want Haylee and the last one to be really close in age instead of waiting until Haylee is 2.
December 21

I'm doing great and so are the girls. Haylee is getting big. Shes so fat.lol Its all in her legs and gut though. She doesn't have the fat cheeks that Kylie has. Haylee is really smart and is picking up on things way fast. We gave her a taste of solids the other day. She ate almost a whole jar of baby food. I was surprised she ate that much.. Were in the process of trying to potty train Kylie. Its going so so. She just doesn't seem interested or really understand that she needs to go in the potty. She will poop in her diaper and take it off. Go throw (yes she grabs her poop) and puts it in the potty.lol We switched to cloth diapers recently and that's stopped it from happening cause she cant undo the snaps. Totally random but I love your family photo on your page. You look so good! How are you and your boys doing? Its hard to believe this year we will have 3 year olds. :( where did the time go?
December 17

ive always liked.. but i never think to get on it.. im always on FB!! but ive been on it today!!! found alot of girls due the same time as me and having all the BHs like me and bad pressue.. so i dont feel alone!!
December 17

Just wanted to show you some love :) <b>LOVE YOU!!!!!</b>
August 20

Sorry I haven't got back to your comment sooner. I'm one busy momma.lol Its going great now that we have sort of a routine going. It was hard at first but it seemed easy compared to being a first time mom. It was hard fitting the new baby in with the schedule we had going with Kylie. Its been stressful at times when both are crying. Its hard to choose which one to go to when they are upset. BFing is going great with her. She was able to latch right away and we have had no issues. Its like night and day comparing the two bfing. Kylie adjusted well but still is shy about holding her.lol
August 6

We find out Aug 23rd!
04090510
I have 2 kids and live in Ralston, NE, United States
July 14

Hey congrats on winning the prettiest blonde on BG award! =)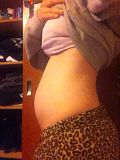 July 12

Your little boy is absolutely gorgeous!!!
June 24

I dont even care its my birthday. My mom wasn't joking that after your 21st its nothing after that, just you getting older. Im also so excited waiting for this baby to make her big entrance so I think thats another reason I dont care. Plus I cant do anything fun really. I want to try a vbac but I wont know if I can until Im contracting and in the hospital. They will give me a u/s to see if she is in the correct position for birth and also check the position of the cord. If either one is in a not good position im doing the repeat. Im not sure how big she is yet either. My Dr wants to do a u/s next week if I make it that far, to check her size too.
Chanelly
I have 33 kids and live in Rover, Arkansas
June 23

Thank you!! I saw your pictures and he is a doll.