About Me
My name is Nikki. I have two beautiful children and we are expecting another addition. I live in a small town in Arkansas. If you want to get to know me better please feel free to send me a message.
My Tumblr :
http://gylou89.tumblr.com/
.:Amy+2:.
I have 18 kids and live in Amarillo, Texas
June 18

Oh I am sorry to hear that...but glad you are doing well. Hope that baby comes out soon for you :D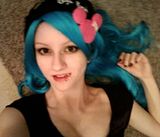 June 18

Oh that s***s sorry, what was wrong with him that he needed surgery? And you're due any day so hope she comes soon, and I'm doing ok. Doctor said yesterday that her heads dropped really low and although I haven't dilated much I'm due any day now, so made me happy yesterday knowing that whenever she wants to she can come out now. And ya I finally got my room almost completely done, new bed with her playard crib thing next to it and have everything washed and set up, ready for little Raith already, both Dylan and me are, we're impatient people.
.:Amy+2:.
I have 18 kids and live in Amarillo, Texas
June 17

Wow I didn't even know you were still getting on here! <b>How are you mama</b>? I haven't talked to you in like...idk 2 years or something, back when our men were in basic/ait I think. Congrats on number 2! Are you guys still in the army?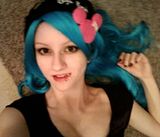 June 15

Aw you were probably so hoping it was actually labor, that s***s, sounds like an unfun weekend. Hopefully she'll be here soon though, you're due really soon.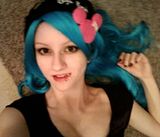 June 12

Lol but that's a cute story for you two to share. And ugh lately I've been sooooo impatient and now whenever I start feeling a lot of cramps/contractions I'm hoping they'll keep going and be the real thing already since I know she would be fine a month early cause I was and it seems that all she does is practice breathing because of how much she gets the freaking hiccups. My plans for the weekend involve trying to get my room done for Raith already, I don't have her crib/playard mix thingy in there and I still need to move a new queen bed in my small a*s room somehow. How about you?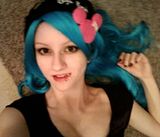 June 10

That's funny cause my bf and me met about 5 years ago or so when he chased down me and my friends in seventh grade to creep us out, then a few years later in high school we became the worst of enemies for about a year and a half...never would have guessed that we'd fall in love and have a kid hahaha, funny how the world works huh? But yes his name's right, and ya I could see people freaking on you to since you've done so much in little time. Nice so if she doesn't decide to come early you'll have her soon, awesome, I'm so unbelievably impatient for mine to get here, I think she's going to be before her due date.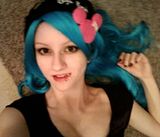 June 8

So this is husband and child 2 lol? But I made sure to never end up with someone like that, I found my bf was perfect for me because he's very goth/punk to and plans on becoming way more feminine after she's born so we're set there. Sorry you ended up with someone like that in the beginning, and thanks for not hating me cause i'm 16 and say gothic and crap, people annoy me when they give me crap about it. They all say the same thing, to grow up out of that phase even though it's never been a phase for me lol. But ya you seem coolio so I'll def keep in touch, especially since we are due near each other and both with a girl yay for girls lol.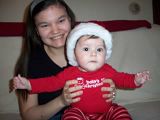 May 6

LoL least your hubs is excited for number two, haha mine is still gettin use to the idea and hes more scared about this one still...one bein since we are apart im still not gaining nething yet for this pregnancy as of yesterday i was 129 and started at 135. we are hopin for a girl and find out mid june hopefully! :o he is in indianapolis for college he just transferred out there and im back with my mom n step dad temporarily until we have a place out there for the 4 of us!!! LoL it really s***s b/c my parents aren't that supportive of the whole thing and say they understand it but they dont....plus they have never liked cameron from day one which s***s!!! well ill ttys keep in touch mama! oh and if nothing else keep me informed over emails k : <a href="mailto:chselk06@yahoo.com">chselk06@yahoo.com</a> !!!!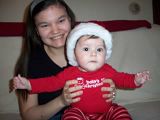 May 5

hey mama!!! i saw your thread, congrats on the positive!!!! keep me posted though, im goin thru bein away from hubs right now and it'll prolly be til sept when i get to be with him again! ttys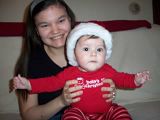 January 28

unless you want a bfp i'll be happy for you, but try and relax, maybe all the stress you are feeling is makin AF late.... keep in touch hunny, i love ya!!!! & thanks for your support too :o <3 melisha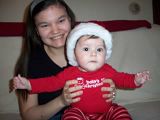 January 22

hey mama! i'm glad u liked the song and are doing well....thats good to hear... currently hubby and i are having some problems and im hoping w/ our faith we can get thru them...as im typing this im at my moms with jr. it s***s being away from hubby but its what he wanted for a week.... jr is 27 1/4 inches tall now and 18pounds 8 1/2 ounces...hes growing to0o fast on me n loves baby food! ill ttys <3 melisha n jr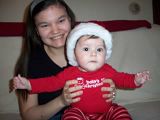 January 15

hi mama!!! long time no talk... how are you and the baby doing???? i have a song i want you to listen too.... "wait for me" by theory of a deadman, its really good, perfect for you actually!!! ttys <3 melisha and jr