Jedi Leigh*MHB*
7221 Posts | Joined BG: Apr 08, 2008
Last Visit: 10 months ago
Age

34



Gender

Female



Status

Married



Work

Adminion



Location

Lancaster, United Kingdom



Interest

writing, reading, paper crafts, art, RPG, puzzle games, music



Hi everyone. My name is Leigh, I'm 29 years old. We've got one gorgeous bouncy baby boy, Benjamin Connor, and another one on the way!
Pregnancy with Benjamin
7th October - 1st BFP! (11DPO)
8th October - Digital BFP! (12DPO)
26th October - Booking appointment with midwife :)
27th October - First U/S @6 weeks - saw heartbeat!
10th November - Second U/S @8 weeks - heart still going strong, baby measuring 8 weeks 4 days
25th November - Dating scan - looking good! Baby measures 10 weeks 6 days and no signs of any problems :). Given EED of 17th June 2010, 3 days before Father's Day!
7th January - consultant appointment - good heartbeat and sneaky scan :)
29th January - Anatomy scan - it's a healthy baby boy!
11th February - consultant appointment - Flash still doing good and dancing around in there. The consultant can't believe I still can't feel him!
25th February - finally feeling kicks :)
17th March - consultant appointment scheduled
Our Angel Babies:
I've lost all three of my babies after 11-12 weeks of pregnancy. We started trying as soon as we got married in July '07. We discovered we were pregnant that Christmas, but at our first scan they told us the terrible news that the baby had stopped growing over a month earlier. I had no idea anything was wrong.
We finally got pregnant again last November. Naturally nervous we had early scans. The first one was fine. At 6 weeks we saw our little bean with a heartbeat. At 9 weeks we saw him again, still going strong, but they said there was a bit of fluid. Nothing to worry about, they said. Sometimes it happens and it goes away. Fine. We went back two weeks later. It hadn't gone away. They thought it might be a chromosome disorder and sent us to a specialist consultant for more tests. We prepared ourselves for what we thought would be the worst and agreed we'd love and raise our baby no matter what kind of disorder he had, but it turned out that wasn't the worst. The next set of scans revealed multiple cystic hygroma around the baby's head, thorax and abdomen, and fluid around the lungs. There was already a strain on the baby's heart and they said it would most certainly fail as the fluid increased, within a couple of days if I was lucky or a couple of months if I wasn't. We made the heartbreaking choice to terminate the pregnancy rather than let the fluid slowly kill the baby.
A couple of months later we got the results of the genetic testing back. Our baby had Turner Syndrome, a genetic disorder which occurs when an X chromosome is missing. It only has a 1% survival rate under the best conditions,so we knew for sure we made the best decision.
It only took 3 months to get pregnant again. I really thought we'd be lucky this time. The pregnancy was perfect, the baby was due around when lost the 2nd one. I thought maybe it was a sign, but it wasn't. We didn't go for early scans this time, though now I wish we had. The routine u/s showed a blighted ovum. There was just a tiny little 4-5 week dot inside a 9 week sac that had kept on growing. I never really believed it could happen again. I was more shocked than I was with the last two. I honestly believed this was the one.
So that's our story so far. I hope I never have to make this Angel Baby section any longer!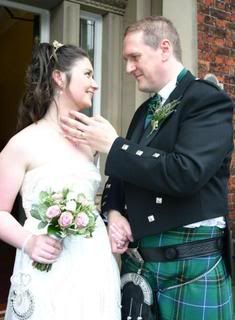 I'm an international jet setter!
The Mophead Buddies :)
It's spelt 'Definitely'!
I have recently learned that the internet spells 'definitely' wrong. I don't know why, but gosh darn it we're putting a stop to this nonsense right now. Lots of people spell things wrong. I spell things wrong. No big deal. But the WHOLE INTERNET seems to spell this one word wrong and I can't take it any more! There is no f-ing '
a
' in 'definitely'. Okay? Tell your friends. Glad we could sort this out :).