About Me
It all started in March of 2005. I met my husband David. We had a quick courtship. We met in March, started dating in April, got engaged in July, and married in August. We have been married for four years and it just keeps getting better and better. One of the happiest days of my life:
Then, in August of 06 I found out I was pregnant. The baby was approx 10 weeks along when I had my miscarriage, on Sept 28th. We will never forget. It might have just been a little while, but we had already started a bond. The baby was due May 5th, and on that day, we always remember.
We decided to wait a little while before trying again. I was starting a new job, and so was he. So, we waited for a little over a year, and in Feb 08 I found out I was pregnant again. I was very worried, after what happened with the first pregnancy. But, we kept up hope, and our little miracle arrived happy and healthy on Oct. 21st, 2008 at 12:01 AM. She was 8 lbs 4 oz and 20 1/4 in. So perfect. I did not have an easy labor, but it was all worth it. Her name is Aubrey Lynn, and everyday that passes by we love her more. We could not have asked for more. We would like to wait a couple of years before trying again, but when we do, we are hoping to give her a brother! We will see!!
I work full time at a pet store as an Asst. Manager. I also sell Avon part time, so if you want to buy, let me know. Or if you want to start selling, let me know, too! Visit my site at youravon.com/awilliams8055
I hope to make friends, and share and give good advice. Any other questions, let me know!
June 29

Hey girl! How are you doing? Haven't been on in forever! Just wanted to see how you and miss Aubrey were doing. We are well overdue for another outing!
♥K
I have 2 kids and live in Assawoman, Virginia
May 15

HAHA! i know me too! This site is SOOO addicting esp at night, seems like a lot of people are on and it always leads to drama! FUN! :)
May 14

do u know how i can make a post im new to this and forgot how lol
May 14

Oh yeah...definately that would be fun! I don't have many here. Just Steph (the one that's coming with us) and Beth. But I don't see them very often. Our schedules usually seem to collide. But yeah we definately should. And I think I'm more excited about it than Ajia is too. I keep askin "Do you want to go to the zoo?" And she just stares at me, LOL.
May 13

Rhyli is 5 months. We were thinking bout leaving here around 10 am. So getting there around 11:30 (hopefully...LOL).
May 13

Of course! Oh and a friend of mine wanted to come along and bring her little girl too.
Haley+2♥
I have 2 kids and live in Michigan
May 10

Hi I just happened upon your page and saw your daughter was born 10/21/08 and was 8 lbs 4 oz my daughter was born on the 23rd and weighed the same. I thought it was kinda cool lol. Idk if it actually is or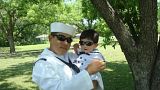 Nurse&Mommy
I have 17 kids and live in San Antonio, Texas
May 9

Awesome!! The beach is nice here.. thats about it..haha! I wish i was back in Texas :cry:
May 9

We're good. Just had Emilee's birthday, getting ready for Megan's now. Happy 1st Mother's Day to ya'! I had people ask me last year if that was my first mother's day....umm, no, it was my 8th. LOL. Everyone forgets about Emilee b/c I had her so young, I guess.
May 9

How are you? Haven't talked to you in a while....LOVE your new avi picture....you both look so beautiful. :D
hahaha, they always come out looking like the men! My neice looks just like her father it's so funny.