seattlemama3 *NMD*
5427 Posts | Joined BG: May 03, 2008
Last Visit: 8 months ago
Age

30



Gender

Female



Status

Married



Work

Mommy



Location

Spokane, Washington



Interest

sports and outdoors




Kids

19



Due

Dec 16, 2013 (girl)



I figure it is about time I edit my profile. I still have 3 beautiful children:)
But we lost our Timmy last summer on July 14th, 2010. I miss him with all my heart and I never thought I coulld live without him.
He passed suddenly from a very common virus known as coxsackie. It is the cause of hand foot and mouth disease, pneumonia, diaherrea and many other common illnesses. Whatever form of it he had my son and I also had. I woke up one morning to him unconcious in the bathtub he was rushed to the hospital and died the next day. It was my responsibility to take him off life support. I feel confident in my decision to do so he died right away. We didn't find out until 6 months later that it had entered his liver and that there was nothing they could have done. He is 1 of only 3 known cases the other 2 being infants.
I am very open about talking about this. I hope that something good comes from his passing. I believe everything happens for a reason and I find comfort knowing he is with Jesus and he will never feel pain again. God gave me a supernatural peace through this whole tragedy. My heartaches for him! I miss you Timmy Jan 16, 1979 - July 14, 2010!
After Tim passed his bestfriend stepped in and would drive the 300 miles almost every other weekend to make sure the kids and I were ok. We were always good friends and we thought highly of eachother. But we never had any sort of attraction to eachother. As the months went on we started to fall for eachother. It is the weirdest feeling to ache for one person and fall in love with another at the same time. I don't blame anyone for judging me for getting into a relationship soon after my husband died. I probably would have thought the same thing. The truth of the matter is he kept me sane. He knows what I'm crying about and who I'm crying about. He is great for my kids and we all love him. So we moved to Spokane. Not neccessarily for him but mainly to get away from everyone. Tim would approve. I have no doubt in my head he would have done something similar and I'm totally fine with that we had fortunately talked about it. I guess I should add we love Spokane and I'm so glad we moved!!
That is about it! my life is crazy and I've learned a lot. Like never say never and don't judge that is Gods job, there isn't enough time to worry about what other people are doing! Life is short and cherish the moments you have one another it could be your last!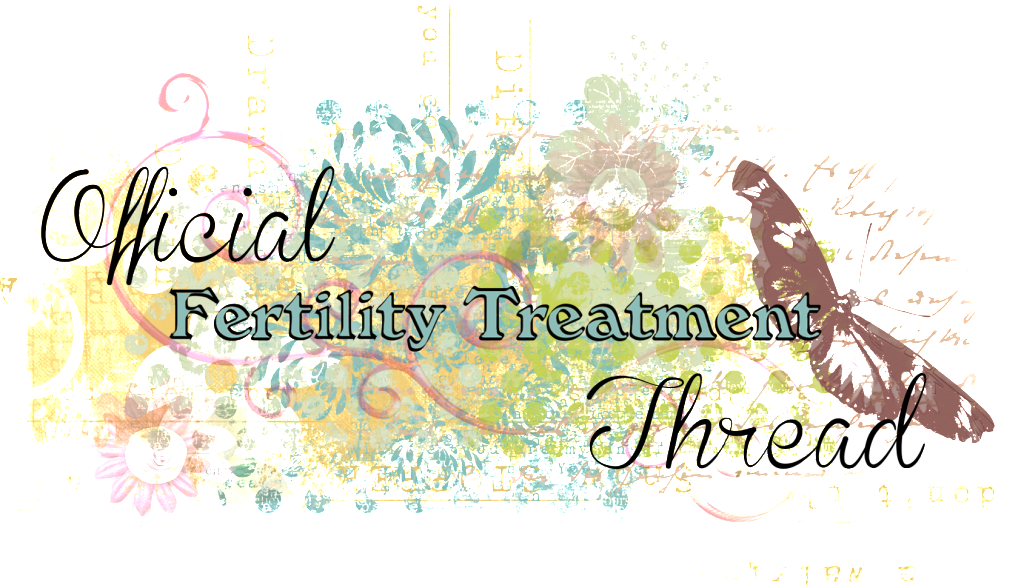 Hi! My name is Megan and I have three wonderful monsters, I mean children. I will have been married for 7 years in Jan 2010. I have lived in the Seattle area my whole life but would like to move somewhere warmer. I can't bear the thought of my kids growing up without their awesome grandparents and aunts and uncles so it will probably never happen. I am a BCFer and I wish I could be on here more to talk to my girls but I am way to busy. I recently started selling AVON. I started for the discounts but if you want to check out my store here's the link everything is reasonably priced!!!
http://myavon.com/megansargent
My first son was born March of 04 weighing in at 9lbs 10 oz and 21.5 in. I was quite surprised to find out that I was pregnant 5 months after getting married. We both had been told that we might have trouble concieving. I have severely irregular periods so there was no tell anything about my ovulation and my husband had a undescended testicle that wasn't caught until he was older. But God is good and he heard my prayers faster than I expected.
So here is my Kaedin, he's super smart and athletic he is going to be a good catch for some lucky lady when he's older:) He hasn't even entered kindergarten and he reads chapter books he can also shoot a basketball in a regular size hoop and hit balls being pitched to him. Sorry proud mommy coming through.lol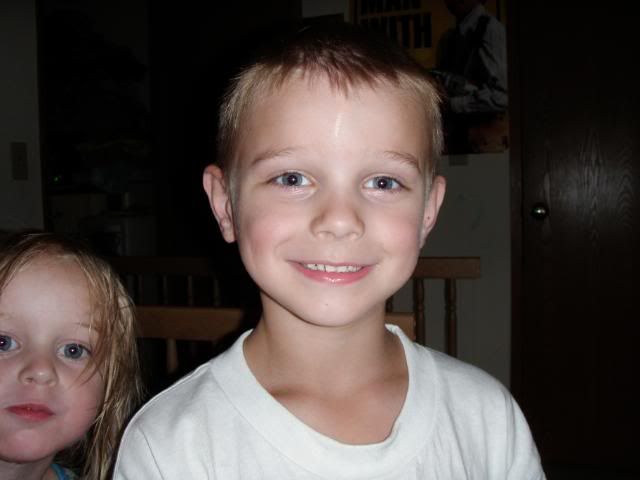 And my Mckenzie. She is so dramatic!!!!! I love her but she makes me happy with just one girl lol. She is a princess, diva and a preformer. I think she gets it from her auntie who is a preformer.. She would wear a dress every second of her life if I let her and she changes her clothes like 10 times a day. She super smart and very loving. She was born May of 06 and she was some what planned. She weighed in at 7lb 4oz and 20.5 in.
And last but not least Karson. He was born Nov of 08 after a long and difficult pregnancy. I was surprised to find out I was pregnant because we had just agreed to start trying. I started bleeding around 11 weeks and was sure I had lost him. But I ended up having bleeding inside my uterus that is still unexplained. I was in severe pain for the end of the pregnancy and although I would like one more child I think I'm done. After Karson was born part of my pain was explained he weighed in at 10lbs 10 oz and 21.75 in. He was and is huge! At 6 mo he has slowed down but he is around 21 lbs and 27.5 in. I had some what short labor with Karson it was probably total 5 hrs. I had him all natural. Although my other two weren't. I had severe bleeding afterwards and I think I should have had a transfusion but they said since I was able to get up without fainting I didn't need one. At 6 mo pp I am just now feeling normal. I still feel a bit anemic.
Karson is the happiest baby I have every seen he never has a smile on his face. You can see the joy through his eyes!
Anyway heres my family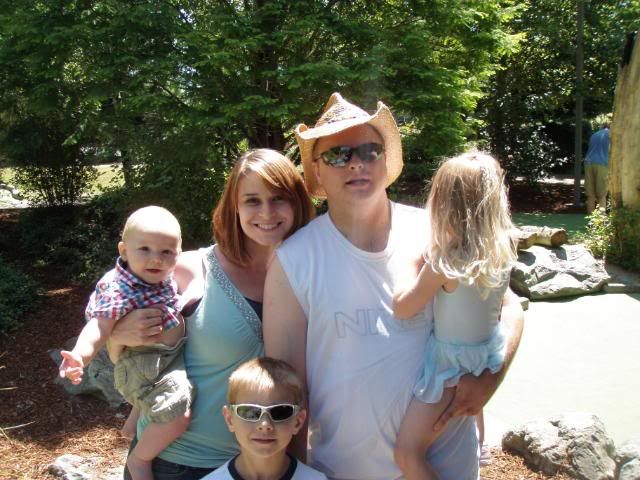 I'm very easy to get along with and I pretty much like everyone. I love my family, God and people! I strive to be happy and to make other people happy and in doing that I believe I am glorifying God. I have been through alot but I think you must look forward because you can't change the past and everything happens for a reason. I am very non judgemental just because you don't believe what I believe doesn't mean we can't talk:)
PM me if you want to talk!
I can do all things through Christ who strengthens me!