*Dezira*
419 Posts | Joined BG: May 07, 2008
Last Visit: 3 years ago
Age

26



Gender

Female



Status

Single



Work

Medial Lodge



Location

Olathe, Kansas



My name is Dezira Renee Emery. I am a energy filled, loud mouth, type of girl. My friends consider me the mom of the group. I don't smoke I dont drink. I dislike them both but I don't mind other people doing it. It's a decision they choose not me! I have lots of questions and I'm not scared to ask them. My mother always said to ask why and to question things. She probably regretted telling me that when I questioned her every decision in my life ha! I couldnt have asked for better parents! They have stuck behind me.
Yes i love twilight so much i wish she would write more books, or just finish out til the baby is full grown. Just one more and i'd be satisfied. ok maybe two or three ha!
My first child! Oh my God what a freaking cutie. Every since the day I found out I was pregnant with Dre my Dr's told me to get an abortion. They knew something was medically wrong with him and told me I'd end up having a miscarriage any way. But, I decided not to and look what I got!A beautiful baby boy. Even though my LO only lived for 6 weeks I couldn't have asked for anything more. God gave me the best gift I could ever ask for! I love and miss my lil man so much. 9-25-08/11-6-08.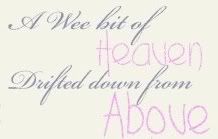 I just recently gave birth to my beautiful baby girl Aleeah renee Emery. I had a very easy and quick labor with her.It was an amazing experience and we can't wait to do it again! She was born December 16th 2009 at 2:12 pm weighing 6lbs 10 oz and 18 3/4 inches long. She is the most beautiful baby besides my son I have ever seen ha!But what mother doesn't think that! She's perfectly healthy, and happy. I couldn't ask God for a better gift.
I delivered my third child January 4th 2013! My water broke at 5:45 pm went to the hospital walked around the maternity ward after getting checked in she was born at 11:49 pm. It was a quick easy labor!! She was 6 lbs 2.6 oz 18 inches long!!!