About Me
Hello everyone, My name is Angel and I am 28 years old.. I am currently married to my husband James but we are separate right now but working through our problems. His the love of my life just had to give him a reality check so to speak lol. I am just 4 classes away from getting my MBA. I have two daughtes, Nevaeh is 8yrs old and Jada just turned 1 years old Sept 1. The day Jada turned 1, I found out I was prego again, talk about a shock!. I do not have alot of spare time right now but when I do I love to write poetry and watch movies but I love spending time with my kids and family.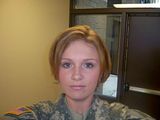 January 11

My son is 3. WOW that is cool. That would be a great anniversary present. I was teasing my husband about a baby being the best Christmas present he could give me. I decided to take a test on Christmas Eve because I wasn't feeling well. I was shocked when it came up positive.
January 11

thank you. it was very hard for me and my husband. we loss them about 6 months apart. it was the last loss that i took the hardest because the heartbeat was strong. so that is when we took awhile to try again. and we wasnt even trying when we got pregnant now. i am sorry for you loss. misscarriages are hard no matter how far along you are. i live in columbia, Mo. been here my whole life. we are thinking about moving to either savannah, ga or raliegh, nc next year.