About Me
PLEASE DO NOT PARENTANK ME UNLESS WE HAVE TALKED;
Thank you.

I'm Sawyer and I had my beautiful daughter on November 8th, 2008. Her name is Kyler Grace and we are doing great! I am raising her as a single parent, and there's nothing like a mother's love. :) I never knew that I could love someone so much as I love her. My love for her is bordering insanity.
It's amazing.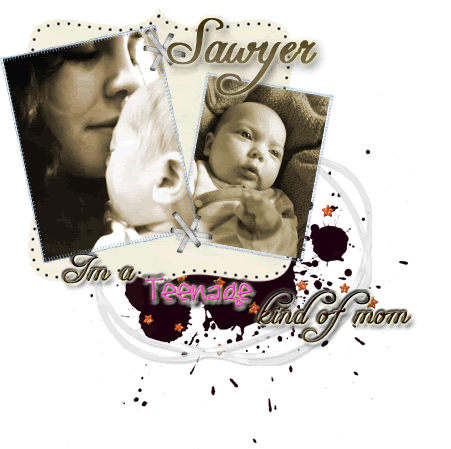 January 26

Hey how are you doing?!
December 7

just vworking, I got my GED before I had her. Cali says kitty, too. it's sooo cute! But her favorite thing to do right now is go maaaaaaaaaah when someone trys to take something away from her, almost like she's telling on them to me, only usually I'm the one taking it away. Lol. Yeah I can about imagine the Cio thing, I'm still kind of living with my mom, it's like a duplex thing with two apartments, and we're in the basement, well anytime Cali starts crying, within ten seconds my moms down here freaking out asking whats going on,. .. I really want Cali to start going to bed on her own too, but know the only way to ever have that happen is have her cio when my moms away for the weekend or something, cause it'll never happen when she's here. Cali's to the point now, where the only way she'll go to sleep is if we literally pin her arms and legs down, eventually she gets so fed up she just crashes, I know if we didn't do it this way, she'd never realise that she was tired and she would just stay awake until she falls asleep sitting up or something,. (she's actually done that before) She's such a crazy little booger!
December 4

Sorry it took so long for me to get back to you, I started trying to write you back, and then my laptop died, and my SO was on my a*s about getting off anyways, so I just said poo it. But to answer you're question, I'm actually working at two places right now, I'm a cashier at a store, and a waitress at a tiny little Cafe'. I love it, and hate it, but for now, it's working. lol And BTW, I absolutely love your display picture! It makes me smile everytime I see it, it looks like she's going to stick the kitty's tail in her mouth,! It reminds me of how everytime Cali see's kitty's she runs over and rubs her face in there fur! sooo funny!
November 26

lol.. that would s**k, mine were like c cups when I was breast feeding, and then like 2 months after I quit I actually lost more b**b than I had pre-pregnancy, I was a bigger b, and now I'm like almost an A. lol. Crazy how she actually made my b**bs smaller once I quit.. I really didn't want to quit either, but had to because my stupid supply went away because I was working so much.. Yeah me and her dad are together, we've been for over 4 years. We broke up once while I was pregnant for like 3 days, but besides that he's pretty much been by my side, be bicker here and there, but for the most part it's pretty good. My brother passed away back in July, and since then our relationship hasn't been the same, plus he's going to school during the day (college) and I work nights mostly, so we hardly ever see each other, but sometime I don't complain about that. lol. How's that aspect of you're life? Or do you not have that aspect,? I'm pretty sure if I wasn't still with him, I probally wouldn't be with anybody, for the time being,.. I just have no time at all for love and relationships.. lol.
November 24

Hey, I forgot to say too, that maybe the reason you've lost soo much weight is because you're still BFing. It takes soo much from you're body, and maybe you just can't keep up with making the extra nutriens anymore.. How much have you lost?.. I've lost all of the pregnancy weight, plus 6 lbs. I was 96lbs pre-pregnancy, and now I'm 90 lbs... I'm 5 feet tall though..
November 24

Wow, that's awesome! You're still nursing? That's even awesomer.. I quit nursing Cali when she was about 6 months old.. I started working, and my supply disapeared. :( That's soo neat that she goes! Tonight when I went to throw Cali in the tub, I took her diaper off, and she walked to the hallway, and peed all over the floor, and just stood there looking at me, not realising she was doing it, I think if I started potty training she'd be good at it too, hopefully!
November 20

Sorry, I had to re paranttank you.. lol. She turned a year old on the 4th of Nov. She's such a little helion!! I stated calling her Cali the destroyer.. cause she gets into EVERYTHING! She loves to knock stuff over too,.. it's litterally like a tornato, in like two seconds, and all that's left over is destroyed after-math, when she leaves a room,.. but I wouldn't change her for the world. She's got such a personality on her.. And she's walking like crazy too!! I miss when she was little, and didn't get into everything, yet at the same time, I love the stage she's into now, because she's just sooo much fun.. Btw: I read your post about potty training.. I'm thinking I'm prolly going to start early too.. Going to get her a potty seat tomorow.. since she's (Tmi) Been pooping turds, and not mush.. it should be a lot easier.. How's potty training going for you?
November 19

Hey.. not forsure if you remember me.. but we talked alot when our little ones were, well littler ones.. How's everything going??
October 25

Hello! Thanks for the parent tank! Im Ashley, 18 year old mommy to my beautiful 6 month old son Peyton. It's nice to see people that I can talk to around my age and city! :) Hope to hear back from ya!
October 2

oh okay! i graduated from A&M in 2004. it's nice to see someone from College Station on here! Good luck with school!
October 2

Are you a student at A&M?
August 27

You're welcome :D