Tiffany♥Kirra
4084 Posts | Joined BG: May 22, 2008
Last Visit: 6 years ago
Age

29



Gender

Female



Status

Married



Work

QT but searching



Location

Oklahoma



Interest

My baby girl Kirra, Sleeping, Eating, Watching movies, Piercings, Tattoos, and hanging with my friends(husband too)



Hi!!! I'm Tiffany. I'm 21 years old and I'm from Oklahoma. I like it here for the most part, not too shabby. I've been married to my husband Joshua since March 22nd, 2008. Kirra Elaine arrived 9/24/08 at 12:29 a.m. via c-section weighing 6lbs 15oz and 20 1/4 inches long. She is the love of my life. <3
February 1st, 2008
- Found out I was pregnant.
March 21st, 2008-
First Ultrasound.
March 25th, 2008
- First Doctor's appointment.
April 22nd, 2008
- Second Ultrasound. Won't cooperate to show goodies.
May 14th, 2008
- Third Ultrasound. It's a GIRL!!!!
July 2nd, 2008-
Fourth Ultrasound. Growing great! approx. 2.8 lbs. Definitely still a GIRL.
July 23rd, 2008-
3d ultrasound. She is so cute, she slept the whole time and wouldn't wake up for anything.
September 22nd, 2008
- Went to 39w 5d appt. and had high blood pressure. No dilation, No effacement. Told me to go to the hospital and get blood tests done. They told me, "You're going to have a baby." So they rolled me into the room to be induced.
September 24th, 2008
- 40 weeks exactly. 6 cm and no more progression and can't up pitocin anymore. Rolled me off to get a c-section. Out my baby girl came!
13 weeks 2 days:
17 weeks 6 days::D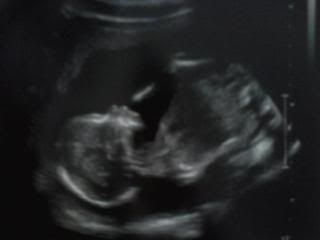 21 weeks:
28 weeks: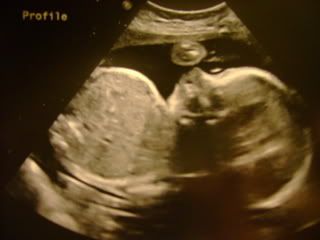 4 days old: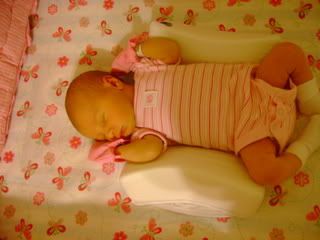 <3
Josh and I as babies
: