About Me
I am the mother of a beautiful little boy. His name is Mason Allen, and he was born on December 13, 2008! I am 5'3 with brownish, reddish hair and brown eyes. I am happily married to the father of my baby and we are currently TTC. I enjoy writing, stories, poetry, anything. . I love dolphins, penguins and cameras. I am a huge book worm I love to read. I love music. My fav band is Red Hot Chilli Peppers. I like a little bit of everything, but mostly Rock.
" />

My son, Mason at 15 months
My husband and our son
and this is me
July 30

Love ur profile pic lol
April 24

haha thats so cool!...lol Ive never met anyone that had the same name as me...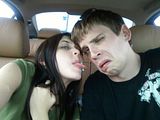 Jala
I have 1 child and live in Illinois
April 24

Yes it is lol