SAYlER'S M0MMY
4 Posts | Joined BG: May 31, 2008
Last Visit: 4 years ago
Age

23



Gender

Female



Status

Married



Location

Van, Texas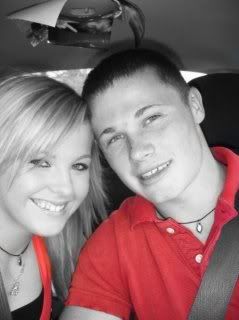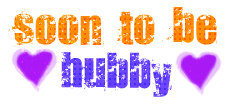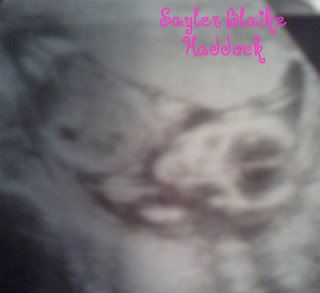 Sayler Blaike Haddock was born on December 17th, 2008.
My life has changed so much already and I am so blessed to have her.
She's my little angel and I can't imagine my life without her!!
About the mother.

Name: Chelsi Preston.
Age:16.
Is this the first child?: yes.
About the father.
Name: Brandon Haddock.
Age:18.
Is this the first child?: yes.
Finding out.
What day did you find out you were pregnant?: beginning of April.
How did you feel when you found out?: excited/shocked!
Who was with you?: Brandon, my boyfrienddd!
How did the daddy react?:He's very supportive, and positive about everything.
Telling the grandparents.
How did your parents react?: My mom is excited..my dad is still heartbroken.
How did his parents react?:They're very supportive, and excited.
How often do they call to check on you?: everyday!
About the pregnancy.
When is your due date?:Decemeber 20, 2008
How far along are you right now?: 15 weekss.
Have you had an ultra sound?: not yet.
Have you heard the heartbeat?:yes!!! it's the sweetest thing!
Sex of the baby.
What do you want. Boy or Girl?: I want a girl..Brandon of course wants a boy. :/
Do you know what you are having now?:nope.
Are you happy with what you are having?:i will be happy either way! as long as it's healthy!
About the birth.
Who is going to be with you?:my whole family will probably be up there, but I just want my boyfriend, my mom, and my best friend in the room.
Are you going to video tape it?:probably.
Natural or medicated? i want natural..but, we'll see.
Do you think you will have a c-section?:i hope not.
Do you think you will cry when you first hold your baby?:Like a baby.
Do you know what you will say to the baby when you first hold it?:i have no idea.
Are you scared about the labor?: verrry!
Names.
Do you have a name picked out?:yes.
Is your baby going to be named after anyone?:no.
Did the daddy help pick the name?:somewhat.
Other random questions.
Where was your baby concieved?: not really sure. haha.
Have you felt the baby move?:just a little bit of fluttering in my lower belly.
What was your first symptom?:my period was late and i had baddd morning sickness.
Will you have godparents?: nope.
Who will be the god mommy?: jordan, or brittany :)
Who will be the god daddy?: ew.
What is the babys room theme?:not sure yet.
Are you ready to be a mommy?:it could've waited a few years, but i'm ready!
What do you think the baby will be a "daddys girl/boy" or a "mommys girl/boy"?: mommy's boy/girl deffinately!