About Me
Im19 and my boyfriend(baby farther) is 20 and this will be our first baby 2getha.So far i am 9 weeks and 5 days.We are looking forward to the day we found out what i will be having.We are both hoping for a little boy but a girl will do us just fine.We are both college students.Im Due January 11,2009
MAY15-Postitive Pregnancy Test
May 26-1st Doctor Appointment
June10-Confirmed Pregnancy(9wks and 4 days)
June24-2nd Doctor Appointment,blood work,pap test!
June27-Miscarriage wit a baby gurl!
UPDATES:
July 9,2k8-im still very very very depressed about the miscarriage..But i know God took my angel for a reason,so i know everything will be ok..i go to the doctor July 11 for a check up..I will let you guys know what he says..Me and my boyfriend has decided to try again as soon as my doctor thinks it safe
July 11 2k8-I went to the doctor today and learned that i have an incompentent cervix.
WELL WELL WELL..ITS ME AGAIN AND IM HAPPY TO SAY THAT IM NO LONGER IN TTC IN 2009
::::VERY IMPORTANT DATES N UPDATES::::
January 11-Missed Period
January 16-Positive Pregnancy Test
January 23-1st Doctor Appt.
January 26-Confirmed Pregnancy(6wks 4 days)
January 29-7wks
Febuary 4-1 yr n 3 mon ann wit da hubby
Febuary 5-8wks
Febuary 6-good doc appt.,pelvic exam,everything is cool,cervix is good and tight no surgery as of now
Febuary 9-Dr. called said im a nemic and is puttin me on iron pills but every thing is A OK
Febuary 12-9wks
Febuary 19-10wks
Febuaray 26-11wks
March 4-1 yr n 4 mon ann wit da hubby
March 5-12wks
March 6-Next Dr.appt//dr.appt went really good..cervix is still closed shut and tight which is a blessing!no suregery still..thank goodness..heard baby heart beat..148!
March10-hospital visit..crampin..only had uti..baby is perfect..heartbeat 144..85%chance a boy
March11-My 20th bday,also turned 13wks
March19-14wks
March 26-15wks
April 2-16wks
April4-1yr n 5 mon ann wit da hubby
April 09-17wks
April 14-trip to da hospital,low stomach pains..docs said its jus round ligament pains..im fine and da baby is fine..heard heartbeat it was 144bmp!
April 16-18wks
April 23-19wks..round ligaments pains are back..baby has been kickin up a storm
!pril 30-20 wks..baby jus a kickin..baby kicked in response to daddy's voice..to cute
May4-1 yr n 6 mon ann wit da hubby
May 7-Whoo Hoo!Made It to 21 Wks..ill get to da doc eventually!stupid medicad!
May 14-turned 22 weeks..still havent beenback to da doctor in 2 freakin months..ugh stupid medicad!!been real uncomfortable lately..for sum strange reason he loves layin on my bladder(not cool)
May 21-turned 23 weeks
May 28-turned 24 weeks,had a wic appt..had ta see da dietian..ugh!they say im gain weight to fast..i cant help it hell..WE be hungry!lol
May 29-had a sono done,they say a ventricle in my sons brain is measuring uneven..that its too big and they are very concerned about it..they want me to talk to an genetics specialist and have an anmio done..so ima little scared and shooken up about it
June 4-turned 25 weeks,whoa dis lil boy really moves and keeps me up at night..moms says he's goin to be an night owl like i was..Oh gosh ..1 yrn7 mon ann wit da hubby
June11-turned 26 weeks,seen him stretch out for the first time...wasnt that a freaky sight lol
June18-turned 27 weeks,its gettin very very hard to sleep at night..so uncomfy..
June25-turn 28 weeks,doc appt..diabetes testin ..very bad hip pains..failed stress test!had to take an glucose test..get results next week..now have doc appts every 2wks now
June26-anotha sono,talk to genetics specialist .everything went well..his left ventricle went from 12-14 down to an 11 so dats good..decided against da anmio..chilled at moms house..missin da husband..
July2-29wks
July4-1yr n 8mon ann wit hubby
July9-30wks next doc appt.
july16-31wks
July17-19 family reunion in da hot a*s country
July23-32wks
July24-next sono..everything went totally good..ventricles is totally normal..said dat my baby is appox.5lbs and 1oz
July30-33wks
Aug4-1yr n 9mon ann wit da hubby
Aug6-34wks
Aug13-35wks
Aug16-moms givin me a baby shower at my grandma's house
Aug20-36wks
Aug 21-Graduated frome Massage Therapy School!
Aug22-Bestfriend givin me another baby shower at da hubbys house
Aug27-37wks
Sept3-38wks
Sept10-39wks
Sept11-trip to da hospital..sent back home at 2cms
Sept12-stronga contractions..admitted to the hospital at 6cms..had jr @1:37pm..he was 6lbs 13oz 19 1/2 inches
Sept17-40wks MY DUE DATE YAY!
PREGNANCY SURVEY!
About You:
Name?:
NeeCee
Age?:19
Height?:
5'5
About The Father:
Name?:
Perrish
Age?:
20
Height?:
6'4
Are you still together?:Well Of Course
About Your Pregnancy:
Is this your first pregnancy?:
I had a miscarrige about 7 months ago.. at 11 weeks.4 days
When did you find out you were pregnant?:
January 11 2009
Was it planned?:
Kinda Sorts
What was your first reaction?:
Shocked,Happy,Confused
Who was with you when you found out?:My boyfriend.
Who was the first person you told?:
I showed the test to my bd n was so excited
How did your parents react?:
Mom was cool,dad passed away 3ys ago..im pretty sure he's happy too
How far along are you?as of now? i am 7wks 4 days.
What was your first symptom?:
missed period.. but im irregular..
What is your due date?:
September 17th 2009
Do you know the sex of the baby?:
No..Cant wait to find out doe
If so, what is it?:Dk
Have you picked out names?:Kinda Sorta
If so, what are they?:
If A Boy Perrish Jr
How much weight have you gained?:
Dk
Do you have stretch marks?:
yes!!!! ughh lol
Have you felt the baby move?
No,but cant wait
Have you heard the heartbeat?:
No,still waitin
About the birth:
Home or hospital birth?:
Hospital.
Natural or medicated birth?:
Medicated. Im not gonna suffer lol..
Who will be in the delivery room with you?:
My Bd,n our moms
Will you breastfeed?:
I wanna try it
Do you think you'll need a c-section?Dk,but ihope not
Will you cry when you hold the baby for the first time?: im pretty sure i will
What's the first thing you might say to him/her?
I dont know.. I love you im sure
Would you let someone videotape the birth?:
lol maybe
Are you excited about the birth, or scared?:excited! but scared at the same time
::::::::::::::::::::::MYLABOR STORY:::::::::::::::::::::::::::::::::
The last time i went to the doctor i had dilated to about 2cm where i stayed for about a week and a half..i walked almost everyday..did some home remedies like drink castor oil(which is highly freakin digusting),i exercised that didnt work..Then finally after aboutanother week contractions started to kick in..they was very irregular so i paid no attention to them..they was about7-20minspart..so i continued to walk andgo on with normal activities..then around 6 or7 the contractions got stronga so myboyfriend took me to the hospital only to find out that i was still 2cm and his head was still very high up..so i was sent home..they gave me an abien to help me sleep..we went home sat around for awhile..then they got stronga once again..im a pain freak but i noticed dat these contractions was gettin to me..so i decided to go to sleep..then i was woked up about 2:45am wit contractions 5-7 mins apart..but i wanted to see how long they wouldi could take the pain..then finally around 5:45am i couldn take it no more..i woke up my boyfriend with alot of cryin and screamin then he rushed me to the hospital..we arrivedat the hospital around6amto find out i was 6cm..after about 2hrsthey asked me did i want anepidural..i immediately said yes..after about an hr they came in and gave it to me..i wasso comfortable and decided to use that timeto nap..i slept like i havent slept in days..which is true..they kept cumin in and checkin me..after about2hrsof havin the epidural i started to get sick throwin up..so they took me off he liquid diet(11am)after that i feel back asleep..around 1pm i started to feel alot of pressure..i called the nurse she checked me n i was 10cm..i started pushin..he started to crown after about 20 mins..and at 1:37pm my son was born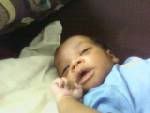 Week by Week Pregnancy Calendar
Make a pregnancy ticker
April 25

hey where u been hows the baby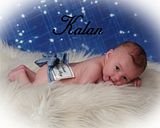 November 12

he will get it after awhile, my son was stubborn too girl. just keep routining it!!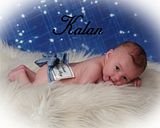 November 8

Ya my son was 16 days early! I couldnt believe it! My water broke and everything! He will get on a schedule. I got him on one by making bedtime the same every single night. Bottle, bath, cuddle, bed. Put a fan in the room, makes him to go sleep and swaddling tightly, if i dont swaddle him, he will not sleep! Good luck, Im finally caught up on sleep! put some pics up of
November 7

yea i wudnt recommend it cuz its horrible n if i wud of kne about it she wud hav never got it my son go to the dc after he turn 2 n i hav to mak sure to tell himn ot to give it to him girl u can hav that belly i couldnt c nothin not even my toes and it was hard to do other things (insider)................................ keep me posted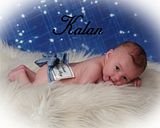 November 7

Thanks girl! Motherhood is amazing, very exhausting, but rewarding. Finally got my LO on sort of a schedule thank goodness! I was super sleep deprived! how r u and your LO?
November 6

hey girlie yessssssssssss its been a while i dunt b on lik that either but he gettin up there huh kariyma is 14.2 pounds she gettin fat n my son bought to b 2 on monday he 32 pounds he his huge n tall all at the same time well kariyma had got a flu shot n oct n it tore her up i had to tak her bak to the dc they daid she had (cant spell it bare wit me) born-ki-tis or wateva she had to take steriods to clear her breathin but she good now cuz i was losin it but the fam good same o same jus takin care of both babiesn yes its alot of work
October 2

hows the baby i hope everythin is good wit yall girl keep me posted lol
September 15

awwwwwwwwwwwwwwww how was the birth 6 pounds was a good weight i cant wait to c him
August 25

hey any signs of lil man yet
July 9

thank u i feel so blessed i got my boy n girl..... gurl im done she tore me up n theat hospital lol but he will b here soon i kno it seeem lik forever now cuz u only gettin bigger and the days goin by slower right????
July 7

heyyy im super late but she here i had her on jun 17 she was 7'5 19 3/4 inches glad im not pregnant no more how ur pregnacy goin?
June 15

awwww poor baby i hope he is ok i been late too i get on through my phone no im still waitin impatiently im so ready to meet her