About Me
I'am a SAHM to a 5yr old girl and a beautifull 8month... baby girl I plan to go back to work (S.T.N.A ) go back to school to be an LPN gl to all preggo /or ttc and congrats to all mommies ....
http://www.slide.com/r/U7bU09Xm7j-7quckS4Q_jnUjDzqEgZND?previous_view=mscd_embedded_url&view=original
❤
I have 2 kids and live in Moving., IL, United States
June 18

I'm doing great. I'm stating Femara (Its like Clomid) next cycle. How are you?
May 19

im going to start taking them agian today! i have a pregnancy scare lol but im going to get back on track cuz i feel like im gaining weight =( we went swimming yesterday and i was soooo embaresed i didnt even enjoy myself ....good for you mommy keep it up!!
May 11

i just cute it in half but its powder inside so be carefull lol
May 7

ok so i took a half of one today, lets see how it goes lol
May 2

i gained almost 80 with this baby =( ive lost 40 pounsa so im trying to get that extra 40 off...im using the ball also and do some work out with the baby...but i dont lose weight..so i wanted to try the pills...of course we can be buddies...what part of ohio you live in, i used to live there for a little
May 1

it said to take 1-2 pills 30 min befor meal so i took one and got a boost of energy i mean like i was on crack lol i gave my lil a bath lotioned changed in like 10 min lol but than i crashed i started throwing up and thought i was going to faint...but i never ate so maybe thats why...than i ate and stuff tried again and i crashed agian so im done with them lol
December 22

Hi! I see you are from Ashtabula - I am in Lake County!
November 18

Awww.. Thanks liking my daughters name lol. I have name Blake picked out for a boy BUT Daddy isn't liking it so I may have to look at others also. I just love the name Blake. Not too much with Prego right now. I feel lil every now and then. Few more weeks and hope will feel alot lol. Hope ur daughter starts to feeling better. I hate when they don;t feel well and not alot you can do.
November 18

The people who where with us was Heather... she was tall red hair.. and Jessica she has shorter brownish hair, also Loretta but she didn't go.
November 16

Heres my myspace check it out then u may remember me. I still have homecomming pictures thats how I remember lol. Remembered the face. http://www.myspace.com/trailblazenselena
November 14

Oh it is you then lol. I believe we went as a group to homecomming before. One take a few of us girls walked to ur house after school. WOW That was a walk lol. That name Mairaposa is a name my 6yr old daughter names one of our chihuahua pups. How funny. She got it from a Barbie movie.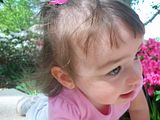 kenimowy
I have 2 kids and live in Oklahoma
October 20

How bout that, your little girl was born just 10minutes before mine, was 1 oz bigger, and 1 inch longer! I love the way you made that announcment it is very cute :)