☆º×ß¡±©µ×º☆
I have 19 kids and live in Centralia, Washington
March 14

<3 how are you and where the heck have you been ?
kaciesue
I have 1 child and live in Calais, Maine
April 24

Why am I still awake? This is the first time I've been on in forever so I figured I'd stop by and say hello! Loves ya!:P
Damn you are in the sticks!
Play date? My place, your place, mall, children's museum, whatever tickles your fancy. Oh, and I need your number again too!
What are you doing this weekend? Specifically on Saturday?
March 30

Yay! It is nice to be on your own now? I'm good.. busier than shit with school. The new quarter just started yesterday and I already feel swamped LOL
March 11

Hey, what's new in your world? Long time, no talk!!
December 28

Pretty avi! :)
December 27

NVMD that's your brother in the photobooth pics.
December 27

Are you and your man back together?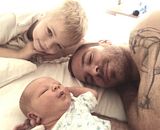 ♥ PUFFIN ♥
status
I have 2 kids and live in South Africa
December 21

dude :o you look so familiar!!! where are you from exactly?
December 9

Hey mama! How are you and Isabella? Are you ready for Christmas? I'm not! :oops: Hope you are doing good!! I'm busy as ever chasing after this LO who moves the furniture all over the apt. now! lol