About Me
I am 39 years old with two beautiful baby girls- one who is now 19 (nearly 20) years old and who recently made me the very proud grandmother of a beautiful baby boy who is now 3 months old and a very happy, healthy chunky monkey! My little one, Dereka (or Didi as we call her) is 3 years old and is growing like a weed- she amazes us every day with her growing awareness and vocabulary and just her complete spirit and we can already see shades of the person that she will yet become...she's amazing :)
****UPDATED 8/31/09 : My husband and I just learned last Monday that we are expecting another baby!! Our tentative due date after our first OB appointment today is 4/10/10, but I am scheduled for an ultrasound on Friday 9/4/09 so that may yet change. We are absolutely thrilled to be expecting again!!****
****UPDATED 10/30/09 : Found out today that I unfortunately miscarried our little Nugget...****
****UPDATED- on 7/2/10 we found out that we were expecting again and that same day I began to miscarry- miscarriage completed 7/4/10 and was confirmed 7/5/10***
****UPDATED 7/7/11 blood test confirmed that we are expecting again- first OB appt is July 29th, 2011*****
****UPDATED 7/25/11 I miscarried and had a D&C the same day****
It has taken some adjustment time to be used to having a little one full time again- even though you would think that it would be like riding a bike and it would all "just come back"..it doesn't. The basics do, I mean there is that inborn thing that just makes the love and fierce protectiveness in you just come alive- and you remember all the cute things about having a baby..but starting over again after 17 years you have to relearn ALOT..you have to relearn what going without sleep means, and how to interpret all of those little cries, you have to relearn all of the "rules" because they all went and changed on you. Like 17 years ago putting your baby to sleep on their stomach or side was the preferred method of choice..now it's no, no, no on their back on a flat mattress LOL I've learned that at 36 you *definitely* don't have the energy level that you had at 19, but you also have way more patience than you did back then. I've learned that at 19 being blissfully ignorant of signs and symptoms of illness and what the experts say your child *should* be doing was definitely preferable to being at 36 a nurse who now stresses every little sniffle or if she doesn't eat a certain amount of her bottle because "she's supposed to be eating this much".. 3 years later I can encompass it all by saying that it's true, every child IS different and the experiences will be so different from one child to the next- and that's okay, it's normal :)
I've learned that at 17 years old your child no longer wants to spend as much time with mom..it's much more fun to hang out with the boyfriend or her friends, so no matter how exhausted I am, I will jump out of that bed to tend to my baby no matter what time she stirs or cries..because moments like that are precious and won't last forever..you'll never get another chance for those 1:1 cuddle moments and that feeling you get as you hold your tiny baby close to you and marvel at every facet of her as she looks at you exploring your face and learning just who you are. Those are moments that will stay in the memory banks forever.
I've learned that although for years I was happy that I'd had my oldest child at 19 because I would be that "young cool" mom, that I'm just as happy knowing that I'm gonna be that "older mom" too. I may not be as cool or as young as I was when I had Kelsey- but I'll always be young at heart and that's good enough for me.
I've had the thoughts run through my head that maybe this was silly of me- to have two children with such an age gap- what will they have in common?? Will they ever spend any real time together?? But I know that although they won't grow up together what they have in common will be *me*..they will spend time together and that time will be spent talking about how two girls can grow up with the same mom but have vastly different experiences..they will each get a very different side of Mom..Kelsey will be able to share stories with Dereka about what I was like when I was young, and the things she experienced because I was learning to be a mom with her...and Dereka will be able to share with Kelsey what Mom was like as an older more experienced Mom..and the things *she* couldn't get away with because Kelsey already pulled them :) Of course I have worries..but in the end, I know it will all be okay :)
I am also married and have been since October of 2008 to the best man in the world for me..I had been down a few wrong paths and gotten lost along the way at times, came out with my heart pretty beaten up- but meeting him healed me up pretty good and though some scars remain, my heart is now in wonderful hands :) He had had his heart banged up and torn apart pretty well too, so we actually healed each other. One thing that I *can't* heal for him is his physical condition- at 19 years old he contracted strep and pneumonia at the same time and it resulted in a very serious condition that ultimately killed his kidneys. As a result he is in end stage renal disease and has been on hemodialysis 3 times a week for many years. He is on a national transplant list for a kidney, and has in fact had two transplants that were not successful- at this time his specialists are requiring a perfect six antigen match for him before they will proceed with another transplant attempt. Despite all of this Taw is the most amazingly upbeat, funny and helpful man that I have ever met and he inspires me every single day :) He never ever takes one single day of life for granted and does all he can to make life easier for everyone around him.
Having our little girl was a miracle for him as he was told that due to the numerous surgeries, procedures, steroids and other drugs he has been on through the years that he would never have a biological child- Dereka is living proof to the world to never say never because love always prevails!!!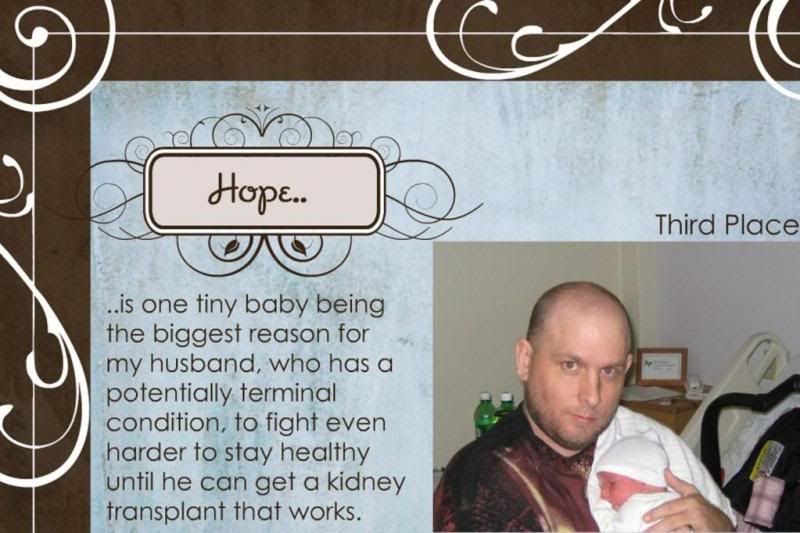 I am an LPN in a nursing home, worked as a CNA for 6 years prior to getting my LPN license. Prior to that I worked a string of different jobs from cashier, line cook at McDonalds to inspecting/packing plastic bottles at a plastics factory (NOT fun..LOL). I have been busting my butt to provide for myself and/or my children/family since I was 17....I worked my way up from working 3 jobs at once at times to being an LPN and as such I absolutely ABHOR laziness and taking the easy way out in any form. It's not easy, but that's life and you do what you have to for your kids- they didn't ask to be born, so once they are and you accept that responsibility you need to stick to it to the best of your ability and do all that you can to give them all that they deserve.
Aside from that I'm an open book..if you want to know more, ask :)

_._._._
I have 18 kids and live in London, Ontario
July 16

You need to stay in Feb so we can be due date buddies :D

_._._._
I have 18 kids and live in London, Ontario
July 16

Feb due date thread ;) <a href="http://forum.baby-gaga.com/about1740864.html">http://forum.baby-gaga.com/about1740864.html</a>
July 13

yes being on your feet is not good.. Cassie spotted alot too. I am still waiting for my blood work. Im sure it is negative since it is taking forever for them to get back to me.. Well keep me posted and stop stressing.. LOL. I will contact you as soon as I get my results. Have a great week and talk to you soon!
July 12

I got my blood test done today at 1030am and it is now 636pm and no answer! I hate waiting. They say it could be a 72 hr wait.. OMG really how shitty is that. I hate Air Force Base hospitals for that reason. I will keep hoping and praying but Im not getting my hopes up. But us three Pregant at the same time is awesome! I would be so excited. Well keep me posted on how yours is going!!
July 11

Yes!! I am hoping it is positive! LOL! I go to the Dr on base tomorrow so I will be getting a blood test done tomorrow so I will tell you when I get the answer!! I am praying it is. I have been pregnant with Cass all three pregnancys of mine and now if I am two of them with you! I hope all stays well and please keep me posted and I will not tell anyone I promise. So have a great day and congrats lady. I hope to hear more!
July 19

:( SOrry hun!..How are you feeling?
July 3

hey girl..Long time no talk:) How are you~
November 4

LOL..same here....I love the Yankees but not to the point DH does. I like a good night of lifetime or some girlish movie:)
November 4

Good. I am glad you are not alone!!!!:)...Have you been watching the World Series??
November 3

how are you feelin hun!??
Fe +3
I have 2 kids and live in Florida
October 25

and I just realized I never gave you a huge CONGRATS on the new baby!!!! woohoo! And the lil bean is due 1 day after I was born, April 9th. That means this child will be super awesome lol jk!! Aww mama I'm sending you an e-hug :)
Fe +3
I have 2 kids and live in Florida
October 25

Awww, lol! You are going to be fine mama. I promise you that! YES I have a FB and we could k.i.t sooo much better *slaps forehead* DOH! Why didnt I think of that?? lol look me up. Im signed in from mobile 24/7!! yay lol. I will PM u the addy.