December 28

I know it's so crazy. I feel like my moms family all died so u expectedly and tragically. It's awful :( Ashley was awful cause her uncle guy is a first responder and her grandpa so my other cousin called them first and they came right over (live next door) and it was really hard on them to hear her begging them to help her :( my grandmas house was rebuilt really nice after the fire, but it was a little strange for her to rebuild on the same site. But she rebuilt a completely diff house plan so it doesn't feel like te same so that helps. I also live in a small quiet town. I don't get to oscoda too much. We're all so busy it's hard to coordinate get togethers.
December 28

Awwe. Yeah my family has lived there as long as I've been alive. My grandpa was Ralph Scott who died In a house fire codes yra ago and my cousin is ashley Scott who died last feb. Both families own/owned excavating businesses. Ralph Scott excavating and Scott Scott excavating.
December 15

Just wanted to say hi. I have lots of family in oscoda area. I was just up there thanksgiving weekend for a family party. If you're from that area you've probably heard about the tragic deaths of some of my family members in the last few years :(
Mrs. Galeforce
I have 1 child and live in Titusville, FL, United States
March 4

Im doing pretty good. A little sleep deprived but good. Im lovin mylil family. How are you?
February 20

Hope all is going well!!! Can't wait to see pictures of your little princess!!! And when the time comes I wish you the best of luck with your labor!! :)
January 6

How's everything going Momma?!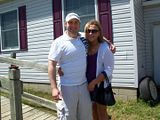 carrie113
status
I have 1 child and live in Oscoda, Michigan
November 27

Aww thank you!! Its awesome to have other people to talk to!! Thank you!! :)
November 27

I love that you are very happy about this baby...especially it being your first. Congrats on the little girl in your belly. If you ever need anyone to talk to, you can msg me...We are all here for each other...Thats what this site is for. Hope to hear from you soon & stay strong...I have faith in you.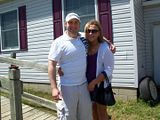 carrie113
status
I have 1 child and live in Oscoda, Michigan
October 30

Yay! I love when people have babies on my birthday! I hope I dont go overdue :)
♥LJ
I have 1 child and live in Ohio
October 30

thanks!! and omg you're due on my birthday LOL :)