Owen's Mommy :)
4110 Posts | Joined BG: Jul 15, 2008
Last Visit: 10 months ago
Age

30



Gender

Female



Status

In a Relationship



Work

car dealership part time, part time SAHM



Location

Quincy, Massachusetts



Interest

Hanging out with my family. :)



SAHM's looking for a way to make easy money? Try one, or all 3, of these sites to make a little extra pocket money, or even a little more depending on how far into them you want to get. Click on the banners below, sign up, and start taking surveys, quizzes and reading emails... and get paid for it! :)
Hello all, my name is Vanessa, I'm 23 years old. I'm a SAHM toan ADORABLE not-so-little boy anymore... born 02/28/08. He was completely unexpected, but he's completely changed my life for the better. I have been with Owen's father for 2 1/2years, but known him for 8 years.
I also have a furbaby... his name is Jack and he's a Chihuahua, and even though he usually drives me insane, I love him like my own child. He really is a great dog... if that's what you want to call him. In my house, he's not a dog, he's a 2nd child.
(Siggy by Hawaii-Nessa... thank you!)
A lot of people always say "I've been through hell in back with my significant other", but when I say it, I mean it. We've literally been through everything you could possibly think of and more. We've known each other since we were 15 years old, and it took me 6 years to realize that I've loved him since the day I met him (I'm a little stubborn). Once I finally came to terms with the fact that I love him, everything started from there. We plan on getting married at some point if we could just fix our relationship problems (which lately, seem way too big to fix), but not anytime soon. We're trying to fix a lot of aspects of our relationship and we don't want to get married just because we have a baby. We want to get married because we feel like the time is right, child or not.
(Siggy by ChArLoTtE's MoMmY... thank you!)
add me to myspace:
http://www.myspace.com/red_sox_whore
add me to facebook:
http://www.facebook.com/vanessascarnici
follow me on twitter:
http://www.twitter.com/owensmommy0228
just tell me you're from BG or I won't add you :)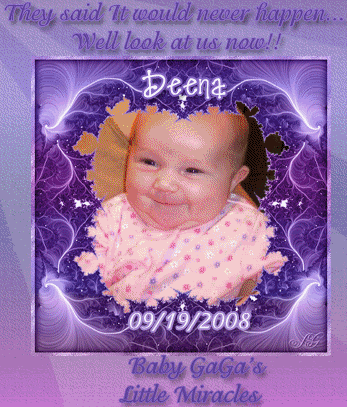 Contests won:
1st place for Smiley Baby
http://forum.baby-gaga.com/about332657.html
1st place for Cutest BabyWith Daddy
http://forum.baby-gaga.com/about371193.html

1st place for Cutest Baby Cry
http://forum.baby-gaga.com/about409034.html
1st place for Cutest Baby With A Bottle
http://forum.baby-gaga.com/about434140.html#8589710
2nd place for Cutest Boy Feet
http://forum.baby-gaga.com/about353263.html
2nd place for February 2008 Prince
http://forum.baby-gaga.com/about485787.html#9947961
2nd place for Cutest Furbaby (DOGS)
http://forum.baby-gaga.com/about637598.html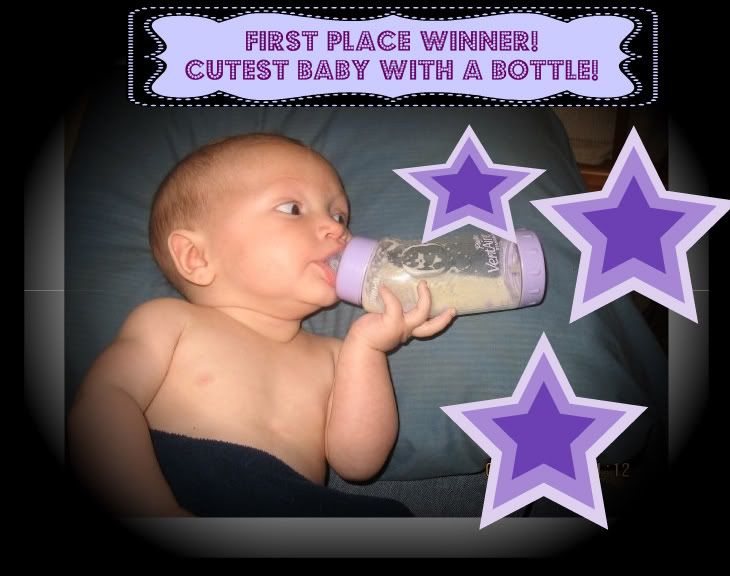 Owen was born on Feburary 28th, 5 weeks before his due date. He was delivered via emergency c-section at 6lbs due to EXTREMLY high blood pressure (basically the highest my doctor had ever seen... 175/116 when they delivered him!). They told me he'd be in the NICU and not come home with me. They put him in the NICU for a few hours, then realized that (other than being tiny) he was perfect. He went to the regular nursery that night,went down to 5lbs 5oz the first 2 days in the hospital, then down to 5lbs even the day after. They let me take him home when I left after 5 days, but told me he'd probably end up back there. Long story short, he didn't. :o) He's now 24lbs and healthy as can be, and we couldn't be happier.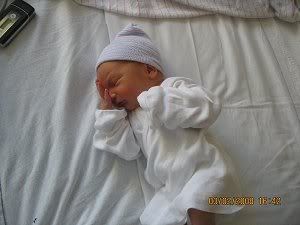 ((My son has had quite the personality since the day he was born.))
02.28.08 - 6lbs 0oz 19 inches (birth, 4 1/2 weeks early)
03.10.08 - 5lbs 6oz 19 inches (1 week4 days)
03.17.08 - 5lbs 15oz 20 inches (2 weeks 4 days)
03.31.08 - 7lbs 0oz 21 inches (1 month 3 days)
04.28.08 - 8lbs 13oz 22 inches (2 months exactly)
06.26.08 - 9lbs 13oz 23 inches (2 days shy of 4 months)
08.27.08 -14lbs 5oz 25 inches (1 day shy of 6 months)
11.04.08 - 18lbs0oz 26 inches(8 months 1 week)
11.24.08 - 19lbs5oz 27 inches (4 days shy of 9 months)
02.23.08 - 20lbs0oz28 inches (5 days shy of a year)
06.23.09 - 24lbs1oz 30 inches (5 days shy of 16 months)