About Me
Hello!
I have 3 kids...Jace (5) is in kindergarten and loves it! Gracelyn (3) is already excited to start pre-k next year, and she'll definitely be ready after a year of tutoring from her big bro! Tyler (11 1/2months) is growing and learning and a true bundle of joy.
I've been married for 8 1/2 years to my high school sweetheart. He's in the Navy. We're originally from Western NY, about an hour south of Buffalo or Rochester. We lived in WA state for several years and are (hopefully) going back there in 2010.
Some might say I'm an overeducated SAHM. I have a BA in Psychology and an MA in Marriage and Family Therapy. I'm currently taking a writing course and hope to have my writing in magazines on your store shelves some day!
chaotician
I have 1 child and live in Santa Rosa Beach, Florida
December 16

I love the picture on your profile! It makes me bust out laughin!
September 16

I wante to thank yiu very much for tht encouraging BFing comment! =) it was ver sweet and helpful!!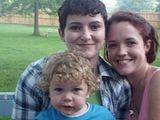 August 27

That newman site is awesome, some of those ladies have huge nipples! lol. I think a lactation aid might help him not to get frustrated with me!! maybe it will help him not to chew on my nipple too. thanks for referring that site!
A ♥s E.T.
I have 18 kids and live in Cheyenne, Wyoming
January 5

Haha! I guess they don't share a birthday after all. No worries, I definatly have the new mommy brain going too!
December 18

Thank you for the advice on the third trimester! Hope all is going well with you and your family! :D