Loving EJ
600 Posts | Joined BG: Jul 21, 2008
Last Visit: 5 years ago
Age

33



Gender

Female



Status

In a Relationship



Work

Server



Location

California



My Labor Story
I was scheduled for an induction on Friday morning at 7:30 am. I couldn't sleep at all the night before because I was so anxious and excited. I arrived at the hospital at 7:15 am and was in my room by 7:30. My pitocin and fluid iv were started shortly after 8:00 am. I was having contractions but they weren't painful and pretty much just felt like BH contractions. Around 9:00 am the anestegiologist (sp) came to ask me how I was feeling because she was going to be in surgery for the next hour or so. I was having no pain so I declined.
At about 9:30 am OB arrived and broke my water. At that time I was a "tight" 3cm dilated and about 90% effaced. Immediately afterwards I started getting really intense contractions and just kept telling myself i only had to manage the pain for an hour. An hour later I asked about the epi and the nurse said it would be another half hour or so. I got a dose of Stadol which really helped with the pain but made me feel a little loopy.
About 15 min later I got the epi (around 11) and was checked again (about 6cm and really thin). It was really only working well on my right side so I could still feel a lot of the pain on my left side. They turned the pitocin off around 11:45. Anyway, around 12:30 I turned from my left side to my right side and immediately started feeling horrible contractions and called my nurse. I got some more epi and felt better immediately. I got checked again at this point (around 1) and was 9cm and fully effaced and his head was at 0 station.
An hour later I told my nurse that I felt the urge to push so she checked me and sure enough i was at 10cm and he was at +1. She left to go call my doctor and I guess he was on his way already because the girl in the next room was his patient as well and ready to push. She had me do a push through one contraction and told me not to push anymore because I was too good at it and had to wait for the doc.
So I sat there in spread eagle position until about 2:40 pm when the doc was ready. 3 contractions/pushes later he was here at 2:44 pm! The nurses were all amazed...
_________________________________________________________________________
11/28/08- 9lbs 3oz, 21 in
11/30/08- 8lbs 15oz
12/09/08- 9lbs 4oz, 22 in
12/29/08- 11lbs 11oz
01/14/09- 13lbs 3oz, 24 in
01/30/08- 14lbs 6oz
12/01/09- 25lbs 8oz, 31 in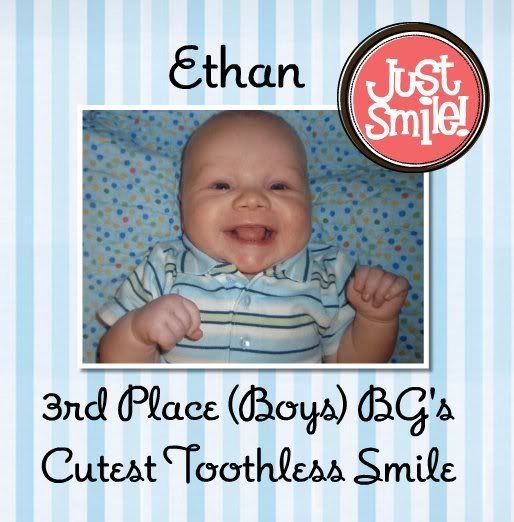 g