About Me
My Labor Story
I was scheduled for an induction on Friday morning at 7:30 am. I couldn't sleep at all the night before because I was so anxious and excited. I arrived at the hospital at 7:15 am and was in my room by 7:30. My pitocin and fluid iv were started shortly after 8:00 am. I was having contractions but they weren't painful and pretty much just felt like BH contractions. Around 9:00 am the anestegiologist (sp) came to ask me how I was feeling because she was going to be in surgery for the next hour or so. I was having no pain so I declined.
At about 9:30 am OB arrived and broke my water. At that time I was a "tight" 3cm dilated and about 90% effaced. Immediately afterwards I started getting really intense contractions and just kept telling myself i only had to manage the pain for an hour. An hour later I asked about the epi and the nurse said it would be another half hour or so. I got a dose of Stadol which really helped with the pain but made me feel a little loopy.
About 15 min later I got the epi (around 11) and was checked again (about 6cm and really thin). It was really only working well on my right side so I could still feel a lot of the pain on my left side. They turned the pitocin off around 11:45. Anyway, around 12:30 I turned from my left side to my right side and immediately started feeling horrible contractions and called my nurse. I got some more epi and felt better immediately. I got checked again at this point (around 1) and was 9cm and fully effaced and his head was at 0 station.
An hour later I told my nurse that I felt the urge to push so she checked me and sure enough i was at 10cm and he was at +1. She left to go call my doctor and I guess he was on his way already because the girl in the next room was his patient as well and ready to push. She had me do a push through one contraction and told me not to push anymore because I was too good at it and had to wait for the doc.
So I sat there in spread eagle position until about 2:40 pm when the doc was ready. 3 contractions/pushes later he was here at 2:44 pm! The nurses were all amazed...
_________________________________________________________________________
11/28/08- 9lbs 3oz, 21 in
11/30/08- 8lbs 15oz
12/09/08- 9lbs 4oz, 22 in
12/29/08- 11lbs 11oz
01/14/09- 13lbs 3oz, 24 in
01/30/08- 14lbs 6oz
12/01/09- 25lbs 8oz, 31 in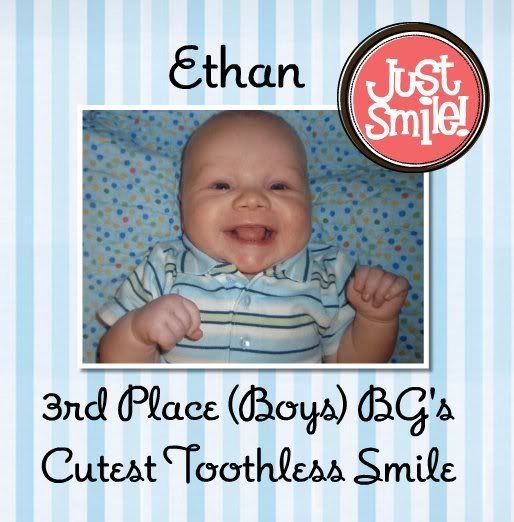 g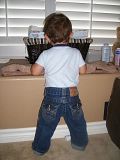 February 2

I love that big smiley picture of him, lol sooo cute! I want to see him again! They grow up so fast dont they :(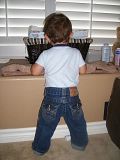 December 17

Hows everything going with the baby? I still have those clothes for you sitting in my trunk :P
November 25

1 more day!!! arent yu exctied?? i cant wait til 2moro lol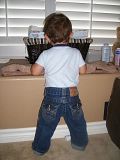 November 21

Only a few more days! Little man will be here soon! If I don't talk to you before you have him good luck!! :D
November 16

ITS ALMOST TIME! :)
November 14

ugh i hate the guessing game of labor :( definitely no fun! being first timers doesnt help at all lol i have absolutely no clue what to expect!
November 14

yeah im sittin at 3cm and about 70% effaced. i have the same thing! last night i got sooo excited bc my back was killin me and my tummy kept cramping...then it stopped. grr. lol how about you? how are you feeling? any action down below yet???
November 13

i feel ya lol i've heard ppl say that they didnt even realize they were in labor...they were just uncomfy and went to l&d for some relief and ended up giving birth an hour or two later :shock: i definitely want some warning lol
November 13

holy crap lol well that thread got some answers finally... here's the new thread i posted in case you didnt get my "following" reply :) <a href="http://forum.baby-gaga.com/about392189.html">http://forum.baby-gaga.com/about392189.html</a>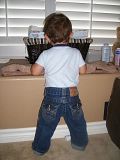 November 4

Wow girly! Just read your announcement thingy! Yay almost there! When I was first checked I wasn't even dilated yet! Only effaced...hopefully you keep moving along fast! I should be in your area tomorrow so I'll give you a call! :D
October 27

Same Here Ultra Tiered But Really Excited... The wheather is Tripping Me Out Its Cold Then Its Hot It Makes No Sence.... I think The Hardest Thing For Me Right now Is Getting out Of Bed... I Feel Like Shamoo Trying to Get Out Of the Ocean or Something IDK its just frustrating..... Please Dont Count Down the Days It Makes It Just that Much Longer...lol... I too Keep Looking at The Pregnancy Ticker IT IS NOT HELPING..lol.
October 27

Thanks.... Awww so Ur Baby Is Going To be named Ethan As Well... Isent that The Most Beautiful name Ever? lol ....Yes Time Is coming... Im So Excited...and Ur not That Far Behind Either... How have U Been Feeling??