Tonie, Party of 5
1003 Posts | Joined BG: Jul 27, 2008
Last Visit: 3 years ago
Age

35



Gender

Female



Status

Married



Work

Full-time: Broker's Asst / Part time: Photography



Location

Florida



Interest

Reading, Photography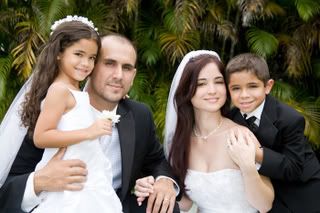 Hello! I am the proud mommy of three beautiful children.Aaron is 8 and he is a dream... he is so well-behaved, smart, and loving. Alexa is 6 and she is a complete girly-girl... without her my life would be boring. My husband and I were very good friends for 5 years before we started dating, and have just welcomed our baby boy into the world on March 22nd, 2009.
My yummy fat-boy @ 4 days:
Alessio's Updates:
Birth:
7 lb 11 oz. & 20 inches
Left hospital:
7 lb 4 oz
5 days old:
7 lb 9 oz & 20.5 inches
1 month old:
10.5 lbs & 21.5 inches
*Started smiling for real at 6 weeks
2 months old:
11 lb 14 oz & 23.5 inches
*Tummy problems with vomiting for2 weeks:(
2.5 months old (two weeks later):
12 lb 13 oz & 24.5 inches. Got some shots today.
*Started laughing a little high pitched squeal when he's smiling... so cute! Has really good head/neck control.
3 months old:
Turned from tummy to back a few times already, laughs, rubs his eyes when he's tired and eats his hands. He's got a bit of a cold and congestion right now.
3 months, 1 week:
Took him to doctor for congestion, weighs 14 lb 3 oz. Gets more shots next weeek. His pedi splits up the shots into two's so it's not so much meds in his little system.
4 months:
15 lb 1 oz & 27 inches! He's in the 100% for his height and 50% for his weight. He finally got the 2nd half of his 2 month shots. He's a little behind but finally healthy. He had a really bad cold for a whole month, poor little guy. He laughs and smiles at everything, pulls himself to a stand then you hold his hands. He's so strong. I just started giving him oatmeal by spoon this weekend, but just a little so he could practice.
So in love with my babies:
My three munchkins:
My big babies: Aaron Alexander and Alexa Amor. They're bigger, but they're still my babies!
My life is filled with the love of...
Three beautiful children.
A loving husband. <3
The best parents.
Wonderful sisters and brother.
Two gorgeous nephews.
Awesome girlfriends.
I love my life :)
Thanks for voting!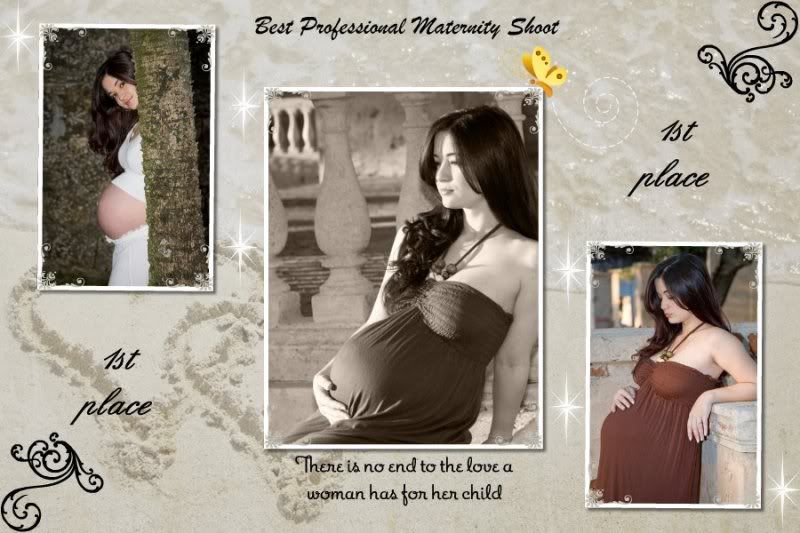 This was my favorite week in my pregnancy. After Week 32 it was all downhill! LOL :)
Good luck to all of you :)
Some of my memorable moments from this last pregnancy...
-July 11th:
The morning of my grandma's birthday this baby was conceived! LOL! Started feeling bad only 3 days later... Yay Pregnancy! My symptoms before knowing I was pregnant were: nausea, smells and food made me nauseous, especially my favorite foods; Road-map veins on my b**bs; water tasted nasty; lost weight, etc.
-July 25th:
Missed period, took 3 tests in the morning... even a digital one. BFP!
-Sept. 12:
Started feeling the baby roll around in there! I turn 11 weeks tomorrow. This was my worst week of morning sickness (week 10). Started feeling better in week 12.
-Sept. 24th (12w4d):
Did first sonogram for sequential screening test and SWEAR I saw a baby p***s! Sonogram tech says looks like a boy, but she's not allowed to say yet since it was so early. Waiting for 11/5 to find out for sure!
-Oct. 16th (15w5d):
Went to doctor, weight gain to-date is 6 pounds. (But I gained 5 pounds this month alone... here we go!)
-October 19th (16w1d):
My hubby got to feel the baby kick! :) It was just one small kick, but we were watching football so you know how that goes :wink:
-Oct. 27th (17w2d):
First time feeling the baby hiccup inside my tummy. My son got to feel it too!
-Oct 28th:
Isn't it amazing how you can fall in love with someone you haven't even met yet? :) I'm feeling baby hiccups again right now and have just totally fallen in love with my newest little 7 inch baby, lol.
See here for additional updates:
http://babyhomepages.net/alessioanaya/
Thank you to all the beautiful mommies who voted! :)
And just in case you're a reader like I am (and have made it THIS far)...some very brief descriptions of my labors:
1st Pregnancy -
22 hours total. "False" labor for 2 weeks prior. Lost mucous plug same day at 5am, contractions (REAL ones) started at 2pm. Went 20 hours before getting the epidural, and jumped from 2cm to 10cm in 2 hours after getting it. Episiotomies with both deliveries. He was 4 days early and was 7.2 lbs, 19.5 inches.
2nd Pregnancy -
8 hours total. "False" labor for 1 week prior, so I went to hospital and used n****e stimulation to cause extra contractions so they would admit me. Cheated, I know, but it worked. I didn't want to deal with another week of stupid contractions. Went on pitocin at 6am, stayed at 3cm until 1pm where they broke my water and gave me the epidural. Once again, went from 3cm to 10cm in 1 hour this time. She was 11 days early and was 7.2 lbs, 19.5 inches. Exact same measurements as my son.
3rd Pregnancy
- 14 hours total. Labored at home for 7 hours, until the pain was unbearable (2am). Got to hospital at 3.5 cm. Epidural around 4:30am, no pitocin this time. They didn't want to make labor too fast since lazy doctor wasn't coming in until 7am. Doc broke water at 7:30 and baby born at 9:08am. Epidural wore off and birthing was so painful this time. Baby Alessio was 7 lb 11 oz, 20 inches long... born 11 days before my due date.