♥Lily♥
4815 Posts | Joined BG: Aug 08, 2008
Last Visit: 5 years ago
Age

35



Gender

Female



Status

Married



Work

SAHM & ARMY wife



Location

Wilton, Iowa



Interest

My kids, metting new people, and just having fun!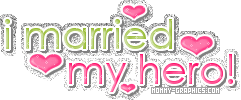 Cute Mommy Graphics and Layouts
My name is Heidi (27) and I am married to a wonderful man Ashley(24) he is in the Army Reserves and we have 3 kids 2 of which are not his but he takes care of them like they are his and I think that take a very special person to take care of someone elses kids, because he was only 20 when we started dating then he went to Iraq and we got married 8-20-05 and we had our beautiful little girl on July 14th 2006 @ 9:40AM In Nashville Tn, she weighed 5lb 4 1/2 oz the dr said she would wieght about 7 and I was wondering what the heck happened , but then I relized she left it with her momma!! hehehe. Well I have been thru 3 labors & deliveries and one miscarriage, 2 of the labors I did with just a shot of nubain and staydal(how ever u spell them) and then with my middle daughter I had NOTHING!! and I survived so if anyone out there wants to talk about anything even just life I could really use some friends, cause I'm a stay at home mom and get very bored!!! Hope that everything goes GREAT with your pregancy and hopefully we will talk soon!!
Cute Mommy Graphics and Layouts
Well on March 4th 2009 after 2 hours of labor and barely making it to the hospital, Lily McKenna Hopper was welcomed into the world @ 3:30am 7lbs 4.5oz 19.5 inches long. I am so in love with her.
Lily right after delivery.
Mommy and Lily right after delivery, lookin a little crazy but I did it all natural!!!
Daddy and Lily
Lily's 1st contest and she WON 1st place!!!Yay Lily
Lily and DylanBG boyfriend and Girlfriend!!! arent they cute??!!!
Cutest toddler girl- 3rd place Briley!!
A siggy for Daddy and Lily--- thanks Rosie
the first conest i won for my cake!!
Lily 1st place Rawr Im frankenstine!!
Lily 2nd place cutest baby givin the finger
Lily
Daddy and Briley