About Me
I'm Meagan. I married the love of my life and my best friend 08.06.2005.
I graduated from the University of Georgia in 2009 with a B.S., majoring in Psychology and minoring in Child & Family Development. I am a certified teacher and graduated from University of Georgia with my MAT in Early Childhood Education in December 2011.
GO DAWGS!!!!
Our perfect little boy was born on his due date by c-section January 21, 2013. Malcolm Alvin was 7 lbs, 3 oz and 20.25 inches of perfection!!
My husband and I began trying to conceive in January 2012. We got a BFP on May 22, 2012!! We are so so excited and cannot wait to become Moms & Pops. :)
May 22, 2012 - I got a positive!! 6 days late, estimated due date based on LMP is January 21.
June 4, 2012 - First appointment/ultrasound - Baby is just a little smudge with a heartbeat (120). Baby measured 6 weeks 1 day, due date January 27.
June 8, 2012 - 8 weeks! Told our families before our vacation to Tampa.
June 29, 2012 - 11 weeks! Second appointment/another ultrasound - Baby looks like a little gummy bear dancing around the screen, heartbeat of 168. Baby measured 10 weeks 1 day. They did all of my blood work for tests. So far, no weight gain. In fact I have lost 10 lbs.
July 30, 2012 - 15 weeks! Third appointment - We finally heard the heartbeat, 150 bpm! Still no weight gain. My due date is changed to Jan 21, so it is like we zoomed ahead an extra week.
August 27, 2012 - 19 weeks! Ultrasound - We stuck to our guns and did not find out. My mom went with us and she tried. She recorded the ultrasound and has been studying it like there is going to be a test. She has no idea what she's looking at though. I find a lot of humor in it. haha
September 24, 2012 - 23 weeks! Quick appointment. Still one 1 lb weight gain (technically making me now -9 with my weight loss the first couple months). Baby is measuring great. It took us a while to find the heartbeat because Baby was running (swimming?) away from the heart monitor. The heartbeat was 149. My stomach measured 24 cm. I have to go by the lab and do the gestational diabetes test sometime in the next few weeks before my next appointment. I've been feeling that Baby is a girl recently, but that could change tomorrow.
October 22 - 27 weeks! 1 hour glucose test, yuck!
October 29 - 28 weeks! I passed the glucose test. Baby's hb was 142. My stomach measured 29 cm.
November 12 - 30 weeks! Still no weight gain. Baby's hb was 145. My stomach measured 30 cm. These appointments are quick!
November 26 - 32 weeks! I somehow lost weight? I'm not sure how since I ate like a pig at Thanksgiving (x3) and at my baby shower. I'm not worrying though. Baby is still doing great. My stomach measured 33 cm. Baby was sleeping so the hb was a little lower than usual, 135.
December 10 - 34 weeks! Baby has a regular sleeping schedule and is always sleeping at my appointments. I tell the doctors that Baby is always moving, but never when I am in the office. Then Baby is sleeping away. We HAVE to sign up for classes soon. Mark is convinced that one contraction (BH or real) means baby time. Goodness, men. :)
December 17 - 35 weeks! Baby measured perfect with a heartbeat of 140. Baby's always sleeping at these appointments. Had the Strep B test done. I will get the results at my next appointment.
December 21 - 36 weeks! Strep B is negativo. Baby was FINALLY awake at an appointment and kept sticking the butt out at the dr. Heartbeat was 155. We also got a private tour of the maternity ward since the next scheduled class is after our due date. It was relieving to see the delivery/waiting suites, the post partum rooms, and the nursery. I of course blubbered when I saw the tiny, super new babies in the admissions side of the nursery.
December 28 - 37 weeks! Still zero weight gain, measuring 37 weeks, hb was 142. Baby was sleeping with a little tush in my ribs.
January 7 - 38 weeks! Baby looks to be staying put. 1 cm dilated, 0% effaced, and Baby is still really high. Doctor mentioned induction if Baby does not make an appearance by January 28.
January 14 - 39 weeks! Not much change from last week. I am still 1 cm, but Baby has moved down. Doctor said Baby is really low now. We're still just playing the waiting game.
January 21 - 40 weeks! You can read our labor and birth story here:
http://forum.baby-gaga.com/about2431595.html
http://forum.baby-gaga.com/about2437185.html
About the mommy
Name: Meagan
Age: 25
Is this the first child?: Yes
About the daddy
Name: Mark
Age: 27
Is this the first child?: Yes
Finding out
How did you feel when you found out?: I was excited and nervous, but mostly excited.
Who was with you?: I was home alone, aside from our pup.
How did the daddy react?: He was ecstatic!
Telling the parents
How did your parents react?: My parents were ecstatic. This will be their first grandchild.
How did his parents react?: His mom did not seem to care. She was just "Ok, thanks for the heads up." But that is kind of her attitude about everything that we do.
How often do they call to check on you?: I talk to my mom and dad a few times a week.
About the pregnancy
When is your due date?: January 27, 2013
Have you had an ultra sound?: Yes. We had our first ultrasound June 4. We got to see the heartbeat. :)
Have you heard the heartbeat?: Not yet.
Sex of the baby
What do you want. Boy or Girl?: I have always imagined myself with a little boy, but we'd be happy with either.
Do you know what you are having now?: It is going to be a surprise!
Are you happy with what you are having?: We're just happy to be having a baby, boy or girl.
About the birth
Who is going to be with you?: My husband. Our families live a decent distance away, but we'd love if our mothers could be there too.
Are you going to video tape it?: From my understanding, most hospitals (around here, anyway) will not allow videotaping of birth. I definitely want pictures of those first precious moments!
Natural or medicated?: I am hoping to go 100% natural.
Do you think you will have a c-section?: I really hope not, but I will do whatever is necessary for Baby.
Do you think you will cry when you first hold your baby?: I know I will. I cry every time I see a baby born on tv. I will be an emotional wreck when I first hold our baby.
Are you scared about the labor?: I am nervous, but I keep reminding myself that our bodies are meant to birth babies and countless women have done it before me and will do it after me.
Names
Girls name? Eliza ??? (We're undecided on a middle name)
Boys name? Malcolm Alvin
Is it going to be named after anyone?: Alvin is a family name. If Baby is a boy, he will be the 6th generation to have the name.
Did the daddy help pick the name?: He had a very active role in deciding the names.
Other random questions.
Have you felt the baby move?: No, but I cannot wait.
Will you have godparents?: We are not religious, so no, not in the religious sense. But my best friend since I was 11 will be godmommy. :)
Are you ready to be a mommy?: I don't know that I will ever feel completely ready.
I originally joined this site after I had a very early miscarriage. I didn't have anyone to talk to and no matter how hard my husband tried, he couldn't understand how I could feel such a loss for someone I didn't really know. I didn't post much, I just read old forums and found comfort in the fact that I was not alone.
For now, I am Mommy to my fur-baby, Ziggy Starr. Sometimes it is hard to watch everyone I know become a mother, but I must remind myself that everything happens in its time, and I will be blessed with a child when I am meant to be.
*************************************************************************
--March 13, 2009 I met my first niece.
She is my heart. <3 Rebecca Lynn is growing up way too fast!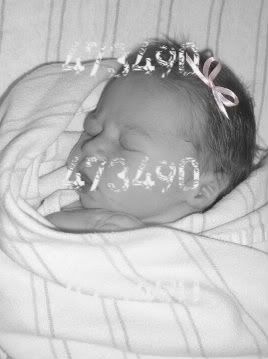 --February 8, 2010
I found out that I have another niece/nephew on the way. My heart grew a little bigger! On March 23, 2010, this little baby grew wings and left this world.
--March 17, 2011
My bestfriend is due with twin girls but will be induced March 4, 2011; I cannot wait to meet my goddaughters!
They were born February 21. They are absolute dolls. Celina Marie is identical to Daddy (dark skin, dark hair, dark eyes) and Olivia Annalise is identical to Mommy (blonde hair, blue eyes, light skin).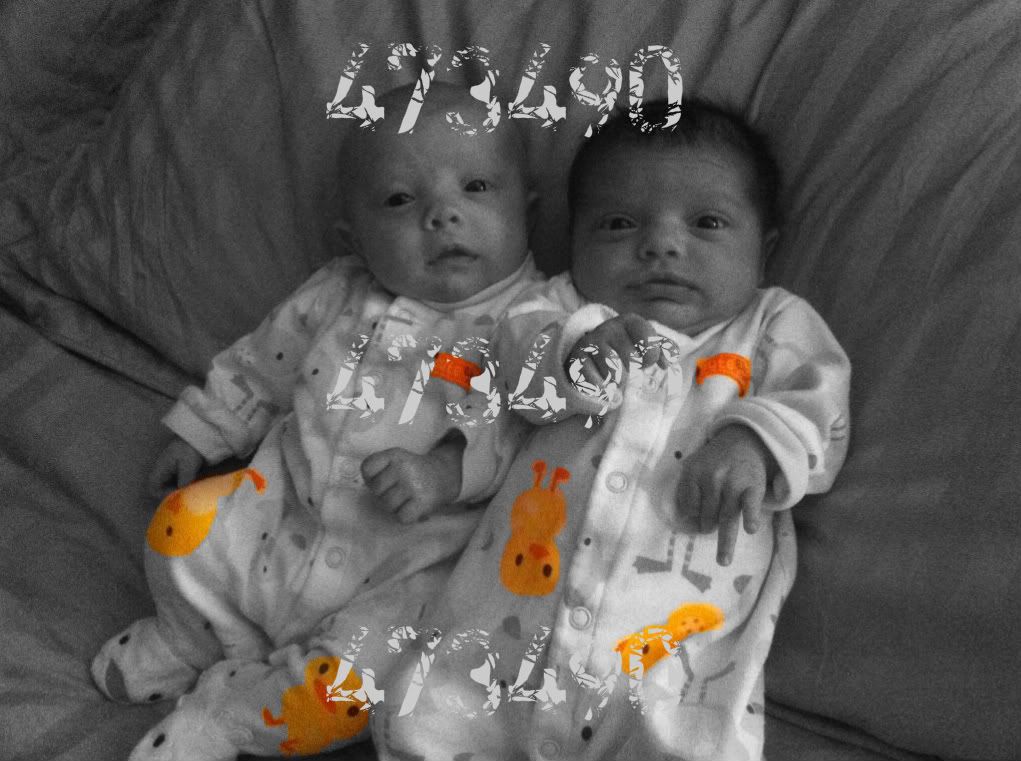 --April 26, 2011 My sister in law, J, is due with her second baby. ITS A BOY!!
Colton Tucker was born on April 20. He was a perfect birthday gift for my husband's grandfather, who was in the hospital at the time.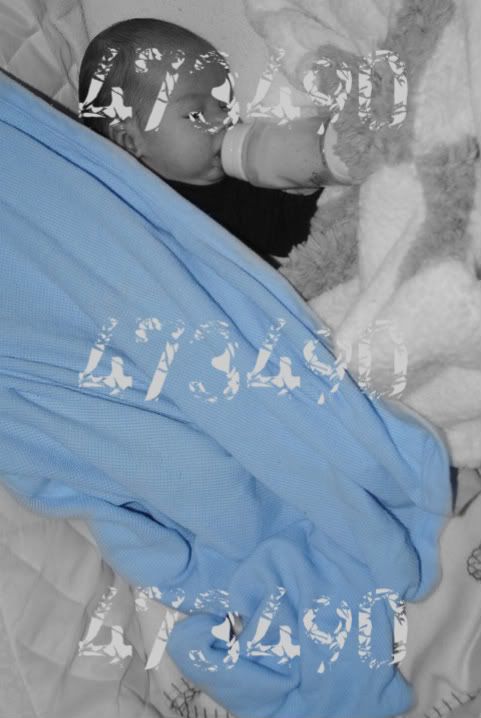 --June 12, 2011 My sister in law, A, is due with her first.
Lana Alexandra decided to make her arrival a little early on May 20. She is tiny and perfect!
*************************************************************************
I cannot wait until the day that I am able to fall in love all over again when I look into the eyes of the child that will call me Mom.