About Me
UPDATE.................APRIL 13NTH 2010
found out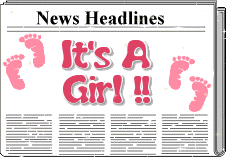 UPDATE
SHES HERE!
CAME JUNE13NTH2010!
AT 9:40PM
8lbs11ounces
21inches&1/4long!
3months .
i have not BF''D for a week
FF'ing currently.
RANDOM FACTS
im PRO-LIFE.
i support BOTH formula and breast feeding.
im anti plastic surgery.
i believe in keeping my body the way god created it.
i believe in NOT marking my body
so NOOOOO tattoos for me!
im a christian.
im against a**l sex.
ANDDDD bj's.
and ALWAYS WILL BE!!!!!!!!!!!!!!!!!
.
my weight pre-birth of baby #2 202.
now i weigh 178 as of the 18nth of aug2010.
i want to lose 34 more pounds about...
DaniE:)
I have 2 kids and live in New Mexico
January 31

im great! how are you?
January 31

How are you love?
January 31

Hey, thanks for the PT! <3
DaniE:)
I have 2 kids and live in New Mexico
November 27

love my pic? i do!
November 4

thank you so much for your kind words and I hope you never feel this kinda pain
November 3

Thanks :) It's crazy! When April 2010 due dates & April 2011 due dates came around I was in shock.
oh ok... well at least theres some type of communications not a full loss.
awww im sorry mama do you at least get to talk to him or see him or any contact w him?
oh ok... i got it mama. sorry to hear. at least you have a chance to be a mother to one of them and give it your all.
i tried to fidn your adoption blogs but they are prob to far in. Just curious is ot one adoption or 2?
Yeah,I signed into an "open" adoption. The parents were supposed to call me at least 4 times a year for the first two years, send pictures every 6 months and then once a year after she turned 2 but I haven't gotten any good pics since she was a baby. They sent them one other time but it's only a couple of pictures. And now the adoptive parents are going through a separation and all of these crazy allegations about her being molested and shit are surfacing so I talked to a lawyer through my job and they told me there is nothing I can do if they decide not to contact me or involve me. Last I heard my daughter is being put into foster care because the separation between the two parents has gotten so ugly.